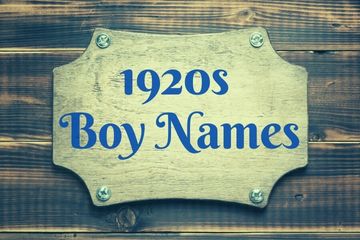 The Roaring Twenties was a decade no one will ever forget.
Flappers and jazz music, Harlem nightclubs and prosperity, radios and boxing, Prohibition and speakeasies. This was an exciting period filled with changes.
Today, we have progress that our ancestors never could have imagined. So many things are different, but in many ways, they remain the same.
Families are still having babies, and one thing everyone searches for is the perfect baby name for their baby boy.
It might surprise you that many of the popular 1920s boy names are just as popular today as they were 100 years ago.
Want to know the most popular baby names from the 1920s? Let's see whether the following list of baby names is hopelessly old-fashioned, or they still rank among popular boy names today.
What Were Popular Boy Names in the 1920s?
Let's see which names make the top 50 baby boy names during this time period.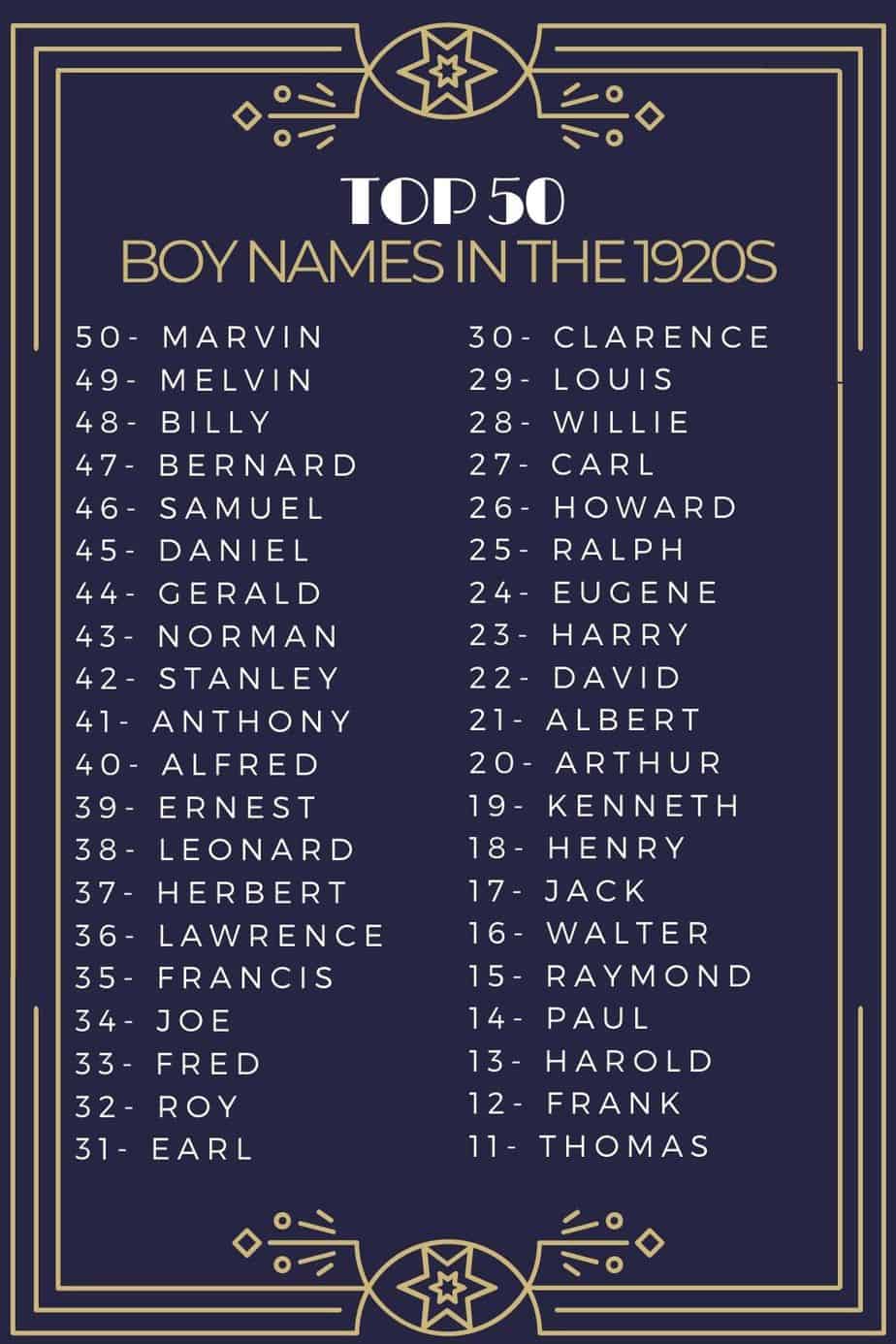 50- Marvin                         30- Clarence
49- Melvin                         29- Louis
48- Billy                            28- Willie
47- Bernard                      27- Carl
46- Samuel                      26- Howard
45- Daniel                        25- Ralph
44- Gerald                       24- Eugene
43- Norman                     23- Harry
42- Stanley                      22- David
41- Anthony                     21- Albert
40- Alfred                        20- Arthur
39- Ernest                       19- Kenneth
38- Leonard                     18- Henry
37- Herbert                      17- Jack
36- Lawrence                   16- Walter
35- Francis                      15- Raymond
34- Joe                           14- Paul
33- Fred                         13- Harold
32- Roy                          12- Frank
31- Earl                          11- Thomas
The Top 10 Popular Baby Names for Boys in the 1920s
We are down the top 10! You'll know all of these names!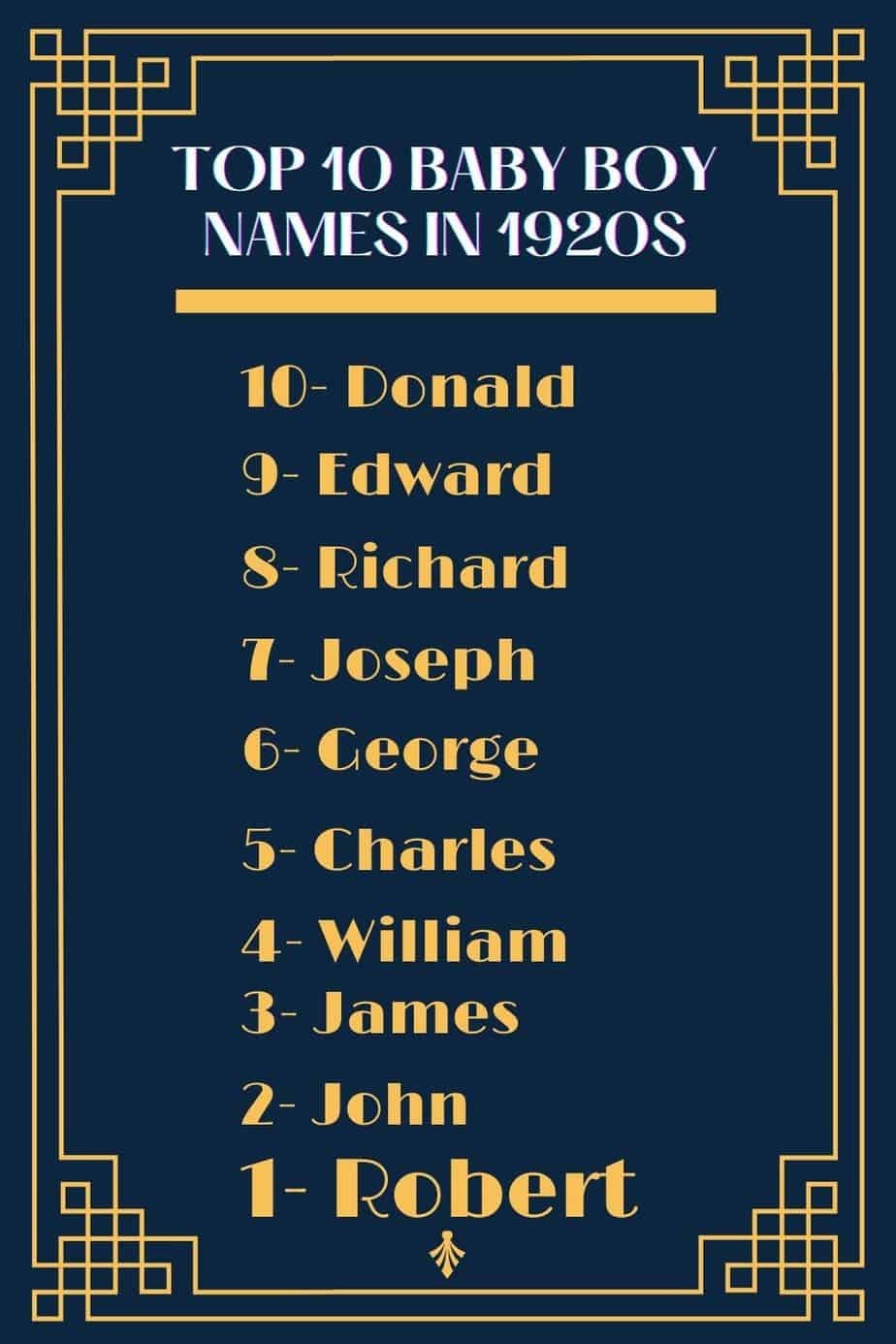 10- Donald
9- Edward
8- Richard
7- Joseph
6- George
5- Charles
4- William
3- James
2- John
1- Robert
You probably know a great many males with some or all of the above names since they are still popular today.
Are you surprised by the #1 name? We certainly were!
Top 10 Most Popular Baby Boy Names from 2020
Are you ready to compare the top 10 list above with the top 10 baby boy names from 2020?
10- Alexander
9- Henry
8- Lucas
7- Benjamin
6- James
5- William
4- Elijah
3- Oliver
2- Noah
1- Liam
We have to say that this list was a shocker. Some names continue to hold on through the decades. such as Henry, James, and William, but where are John, Robert, and Richard?? We are also curious as to why very common names, such as Michael or Peter, also did not make the list.
What Are Unique 1920s Names for Boys?
Some rare boy names come from the times that the parents were living in, or they might even come from a family nickname or other popular themes that were in style.
It wouldn't have been unusual for someone to name their child "Cash" before the Great Depression or even "Jazz".
If you're considering old-fashioned but unique names from the 1920s, this list from history should be an inspiration.
Some of the more unusual names for babies born in the 1920s include:
Giles – (Greek, meaning Shield or Protection)
Lawton – (English, meaning Settlement near a Hill)
Denver – (You might think of Denver, Colorado, but Denver is a very old English title meaning Green Valley)
Boyd – (Irish, meaning yellow hair)
Wallace – (Scottish, meaning Foreigner)
Conrad – (German, meaning Wise Counsel)
Harlan – (German, meaning Rocky Land)
Sumner – (French, meaning The One Who Calls or Summons)
Burton – (English, meaning an Enclosed Town or Settlement)
Harris – (English, usually meaning the son of Henry. Henry, which means Home Ruler)
While you may not have heard of some of the above names, who knows? Everything old becomes new again over time.
What Are Considered Old Fashioned Boy Names?
Some baby names stand the test of time, such as Willie, Louis, Clarence, Earl, John, Henry, William, and James.
Other names that were once famous and common are now considered to be old-fashioned and out of date.
Names that used to be common but are now rarely heard of include:
Cecil

Sherman

Russell

Augustus

Edgar

Emmett

Ezra

Hamilton

Ira

Jeremiah

Luther

Micah

Morris

Othello

Orville

Otto

Ralph

Rhett

Sigmund

Silas

Thane

Theodore

Arlin

Waldo

Werther

Winslow
These names have dropped drastically in popularity, but they could always make a comeback!
Are There Unisex Names from the 1920s?
Every generation likes to think that unisex names are unique to their lives, but the truth is that unisex names have been around for centuries.
During the 1920s, unisex names, such as Jordan from the Great Gatsby, were quite popular.
Some of the top unisex names from this era include:
James. While most girls are called Jamie, boys named James can also be Jamie.
Charles. You might think that Charlie is a boy's name but Charles peaked for girls in 1927. If you think James is overdone, you could go for the classic Charles.
George. Like James, most girls are given fun variations such as Georgina or Georgette, but George is a classic unisex name.
Ashley. If you saw Gone with the Wind, then you know Ashley was once a boy's name. In fact, up until 1960, Ashley was strictly a male name.
Francis. Usually, the only change here is the spelling with Francis for boys and Frances for girls.
Avis. This is the Greek word for bird, so it can belong to either sex.
Jean or Gene. Whichever spelling you choose, Jean means Gift from God, which makes this name a proud one for any gender.
Laurel. This name comes from the name of a tree. Laurel leaves used to be woven into a crown of victory, often for sporting events, but the name itself is completely unisex.
We earlier mentioned Jordan as a unisex name from the Great Gatsby book, but the main character, Jay Gatsby, also has a unisex name, so if you're a fan of making new styles from old names, you might want to consider using Jay or Jordan for your baby name.
What Were Some Common Boy Names from the 1920s That Are No Longer Used?
While some names, such as James, remained popular for decades, other names that were quite common through the 1920s but suddenly dropped out of favor might surprise you.
Giles. A Greek word meaning protector, Giles could also be a unisex name.
Lawton. A very old English word that means settlement near a hill.
Denver. While you might think Denver, Colorado, Denver is another old English title meaning green hills. If you think Dakota or Dallas is overused, Denver fell out of favor somewhere around 1920, so you'll have a fresh name from an old era.
Boyd. This is a sweet Irish name meaning yellow or son of the one with yellow hair. For a blonde-haired baby boy, this could be a unique name in life.
Jules. Jules is Latin for charming, and every woman wants a charming son, right?
Wallace. This origin is Scottish, and it means foreigner. Wallace hasn't been a popular name since the 1920s.
Conrad. A very prestigious name with its roots in German. Conrad means wise counsel or counselor, and it was a popular name until the mid-1920s.
Newell. An old English name meaning New Hall, but if you want a name that is unique, yet used to be commonly used, Newell has a sweet sound to it.
Burton. A very old name from England, usually referring to a fort around a village. Burton is a distinguished name that is also a good choice for a middle name.
Willie, Louis, Clarence, Earl, and Oscar are names that will probably remain popular forever, but if you are looking to revive a classic, one of the names above should suit you.
What Is the Oldest Baby Name Ever?
There is a lot of debate as to what the oldest name actually is.
Since written languages didn't really occur until about 3200BC, any history or names before this time are lost to us now.
We do have knowledge of a few names from well before the 1920s, such as:
Anitta. This might remind you of the current name Anita, but in this instance, Anitta was a male ruler from what is now Turkey.
Narmer. From ancient Egypt, Narmer, which sounds a lot like Armor, was the successor to Ka, one of the first rulers of Egypt.
Scorpion II. Also from ancient Egypt. While this sounds like a terrific Hollywood movie name, there is a sort of macho appeal to a boy called Scorpion.
Kushim. From ancient Sumeria, now modern-day Iraq. Kushim is the oldest name that researchers know of, dating back to about 3,000BC. Kushim wasn't a ruler, but an accountant, who signed his name to a variety of receipts, which is how we know what his name was!
While these names were absolutely not a choice someone from the 1920s would have made, you can start a new tradition in the 2020s if you are daring enough!
The Bottom Line on Popular Boy names in the 1920's
What's in a name? Whether you want something a little different or a classic name that will stand the test of time for your little one, you can't go wrong by choosing popular names from the 1920s or unusual names from times long past.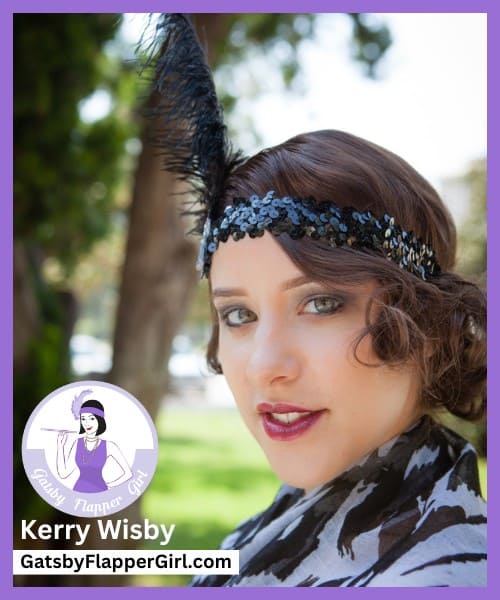 Written by Kerry Wisby – GatsbyFlapperGirl.com
Owner & Founder of GatsbyFlapperGirl.com
Kerry Wisby is the owner & founder of GatsbyFlapperGirl.com, your go-to source for all things 1920s & The Great Gatsby. With a passion for the era & a wealth of knowledge to share, Kerry is dedicated to providing you with everything you need to know about Roaring 20s fashion, 1920s history, & Great Gatsby-themed party ideas. Join Kerry in bringing the spirit of the Roaring 20s to life! Read more about Kerry here.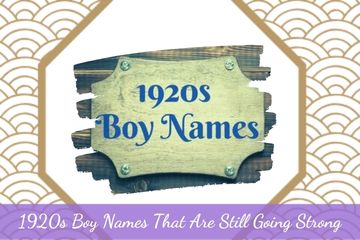 1920s Boy Names That Are Still Going Strong
It's been 100 years since the Roaring 20s and a lot of things have changed. One thing hasn't changed and that's mothers looking for popular names for baby boys.