Sometimes, finding the perfect outfit for an important event can seem overwhelming.
Regardless of your reason for needing a beautiful dress (and do we really NEED a reason?!), it can be exhausting looking through page after page of dresses, only to find nothing that suits you.
If you are looking for a dress for a themed party, a cosplay event, or perhaps even for a prom or wedding, you may be inspired to go retro. Why not? Everyone seems to be into vintage fashion designs, so why not go all out 1920s?
Babeyond is a dress designer and manufacturer producing comfortable dresses that will get you the compliments you deserve!
Whether you're petite or plus-sized, looking for a flapper dress, prom dress, or just fashion ideas in a certain price range, you are sure to find what you are looking for here.
Babeyond Best Sellers
A truly great dress shouldn't break the bank or even be all that expensive. It should have some stretch to it and be drop-dead gorgeous, right?
This dress is the perfect example of what we mean. 
This pretty number can be worn almost anywhere to nearly any event! We love the old-fashioned glamour this mermaid-style dress has. Imagine Greta Garbo or Mae West going to a party in this dress!
You can accessorize this stunning dress with a nice little 1920s wrap, such as this one so you don't feel chilly in the evenings.
Looking for something suitable for a wedding or other formal event? This gorgeous sequined dress is stunning yet subtle. 
Don't you love the see-through sleeves? This dress comes in several colors, and retro lovers will go crazy for the style!
We know that some women are already thinking about New Year's Eve or that holiday Christmas party. You'll need something slinky, but you'll want something that allows you to dance. This dress has everything you've been looking for. 
The leg slit stops at mid-thigh so you can dance and show a little leg but still look like a proper lady.
For those of you who are planning a winter wedding, this dress is the perfect answer to your search. 
Vintage inspired with lots of fringe on the bottom, paired with the perfect headpiece- we love this delicate number. 
This quality-made dress will be the talk of your social media platform.
No matter the occasion, you are sure to find an amazing, vintage-inspired dress to wear from Babeyond popular collections.
Sensational Babeyond 1920s Flapper Dresses
We love Great Gatsby parties, don't you? If you've got a costume party coming up, you may want to dress as the fun and happy flapper girl from the 1920s era.
Flapper dresses are typically covered in sequins and fringe, with a V-neck and a dropped waist that comfortably hugs the hip so you can dance the night away.
This beautiful dress is the perfect example of what a well-dressed flapper would wear.
It comes in several colors, and you can choose sizes from XS to 3XL!
Sassy and fun, this dress will get you tons of compliments, no matter what type of party you wear it to!
No flapper dress would be complete without fringe, and this dress is simply dripping with all the fringe you could want!
The fringed sleeves are a unique touch no matter which color you choose.
Don't forget that accessories make the look, so choose a sequined and feathered headband, such as this one
or this one to complement your gorgeous dress. 
One thing about flappers, they all wanted to dance, dance, dance! If you want a dress to shake your shimmy, you will love this number. 
This dress looks so demure until you get up to dance and shake what you've got! This fun and flirty dress is sure to catch everyone's attention, and the price is almost a steal!
Dazzling style at amazing prices- what else could anyone ask for?
Plus Sized 1920s Vintage Dresses
You don't have to be a skinny minny to own a beautiful flapper dress or a vintage costume! Babeyond has a large selection of dresses to complement and fit nearly every size!
Check out this drop-dead gorgeous dress from Babeyond. We can just picture Mae West strutting her stuff in this number. 
Get the Plus Size 1920s Dress!
We love the details, like the beaded flowers and neckline! All you need is the right pair of shoes (Don't you just love these?)
Plus a set of gloves to complete the look. 
Ladies, if you're one of those who want to rock the house, you will want to check out this remarkable dress that hugs all your curves but won't fit too tight. 
Get the Fringe Plus Size Dress!
Don't you just love this dreamy green color? This fits sizes up to 5XL so come on! What are you waiting for? You know you want to shake your shimmy until the break of dawn!
Are you looking for something fun but a bit more demure? How about this amazing peacock dress? 
The irregular fringed hem goes past the knees, but the sequined peacock on the front and back is too striking for anyone to ignore. This comes in sizes up to 3XL, so yes, it will fit you!
Don't forget to add a peacock feathered headband for the perfect accent piece! 
Roaring 20s Vintage Dresses
Maybe the flapper look wasn't what you had in mind.
Are you looking for something vintage inspired but not a dress that brings flappers to mind?
Babeyond has just what you're looking for!
First, let's start with this stunning dress that is elegant but subtly sexy. 
We can't get enough of the V-neck back and the lace panel in front for just a hint of modesty. Pair this dress with a simple beaded headband. 
You can wear this dress for almost any occasion.
If you love vintage party dresses, this cute little dress in gold will remind you of Las Vegas. 
Don't you love the feathered hem? This is classy, not trashy, so dance the night away!
If you have a party to attend and want to make all the other women green with envy, this dress should do the trick.
A little flash of leg, a deep V-neck, and just a hint of sequins means that all eyes will be on you!
Don't forget to add a little sparkle to your new dress! A pair of drop earrings, such as these impressive beauties 
or the perfect beaded clutch to complete your look. We simply adore this bag! 
Last, but certainly not least, we would be amiss if we left out this incredible-looking dress just released by Babeyond.
We love the unique teal color, the halter neckline, and the to-die-for sheer bottom! This is probably our new favorite dress from Babeyond, and we bet you'll be glad you put your money down for this striking dress.
Final Thoughts
Keep in mind that when it came to 1920s fashion, it was all about accessories.
Cloche hats, headbands, costume jewelry, dangling earrings, purses, and gloves were the main focus of a flapper dress, so be sure to include some of these items in your purchase.
No matter what your plans are for your new dress, live it up and have fun! Life is too short for boring clothes!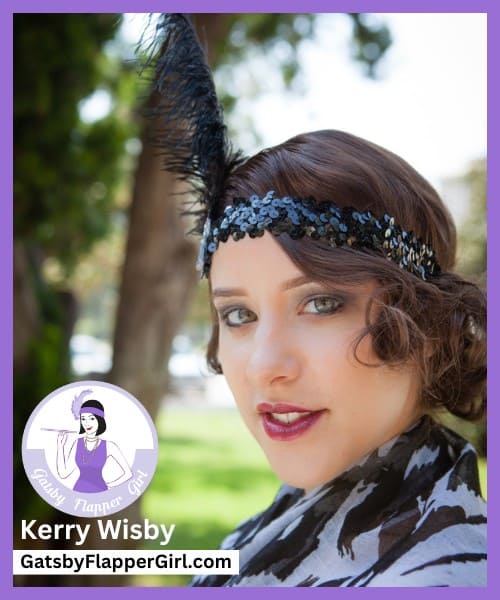 Written by Kerry Wisby – GatsbyFlapperGirl.com
Owner & Founder of GatsbyFlapperGirl.com
Kerry Wisby is the owner & founder of GatsbyFlapperGirl.com, your go-to source for all things 1920s & The Great Gatsby. With a passion for the era & a wealth of knowledge to share, Kerry is dedicated to providing you with everything you need to know about Roaring 20s fashion, 1920s history, & Great Gatsby-themed party ideas. Join Kerry in bringing the spirit of the Roaring 20s to life! Read more about Kerry here.
Babeyond Flapper Dresses - Stunning 1920 Styles for Women
Are you going to a costume party, Halloween party, wedding, or cosplay, or just looking for some vintage inspiration? Babeyond dresses are the perfect answer!