The infamous couple Bonnie and Clyde didn't start off their lives as criminals.
As a child, Clyde Barrow considered becoming a musician. He played guitar and the saxophone.
On the other hand, the young Bonnie Parker wanted to be an actress but later turned her attention to photography and poetry.
What would a killer write about? When did Bonnie have time to write some of her poems? Did Clyde join Bonnie in her literary pursuits?
Keep reading to find out more about Bonnie Parker's poems and her premonition of their demise.
Did Bonnie Parker Write a Poem?
Bonnie Parker, the female half of the duo known as Bonnie and Clyde, wrote more than one poem.
The ones that she is best known for were written while she was in jail, awaiting the outcome of the grand jury.
Just a quick background, Bonnie smuggled a gun into the jail where Clyde was imprisoned (learn more on where are Bonnie and Clyde's Guns now). Clyde used the gun in a jailbreak, but he was quickly caught.
This led to Bonnie's arrest. While she waited to hear about the outcome of the grand jury's deliberations, she spent the time to write poems. Bonnie used a small notebook she picked up at some time from the First National Bank of Burkburnett, Texas.
Suicide Sal – A Poem Bonnie Wrote While in Prison
One of Bonnie Parker's poems from that notebook is called Suicide Sal. It goes like this:

This almost sounds like a biography of Bonnie's life with Clyde, except that the pair had not been killed yet.
What Was the Last Known Poem from Bonnie Parker?
According to both mothers, Emma Parker and Cumie Barrow, Bonnie and Clyde paid them a visit in early May 1934.
As Bonnie was leaving, she handed her mother an envelope with a piece of paper ripped out from a notebook that she took from First National Bank. On it written was a poem that she penned.
Bonnie and Clyde had promised to return for another visit in 2 weeks, but in that two-week period, the pair was shot dead.
This poem is perhaps Bonnie Parker's most famous poem since it appears to have a premonition of the couple's impending doom.
The poem's title is Trail's End, but most people refer to this poem as The Story of Bonnie and Clyde.
Did Clyde Barrow Write Any Poems?
Whether he did so to please Bonnie, or Clyde simply wanted to try his hand at poetry, Clyde did write one poem that we know of, part of which reads (including the spelling errors) –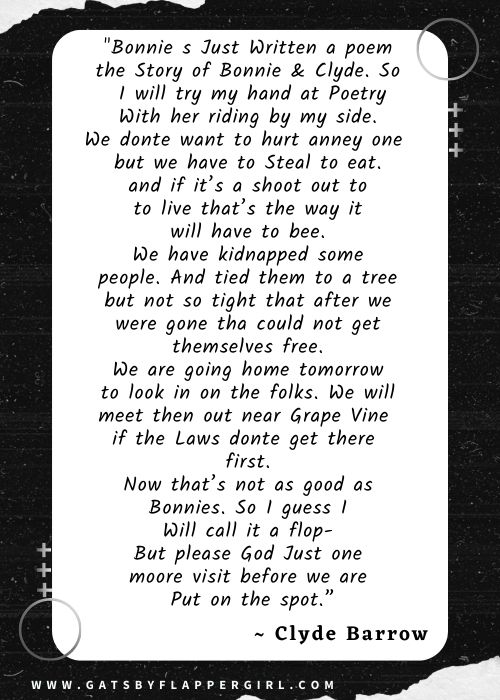 The spelling errors may be indicative of Clyde dropping out of school at 16 or the fact that the Barrow family didn't have much faith or time for education.
Bonnie Parker wrote poetry that will live on in history, along with the story of the Barrow Gang and the time she spent on the run with Clyde Barrow.
Nearly everyone has heard of the infamous duo Bonnie and Clyde. Not nearly as many know that Bonnie was an amateur poet. What did this criminal write about? Find out here.