This article contains links where we may earn a small commission at no cost to you: Learn more here
The popularity of the Netflix series Peaky Blinders has gone beyond anyone's expectations.
Even if you've never seen the series, you'll instantly recognize Thomas Shelby in one of the hundreds (perhaps there are even thousands) of internet memes and pictures.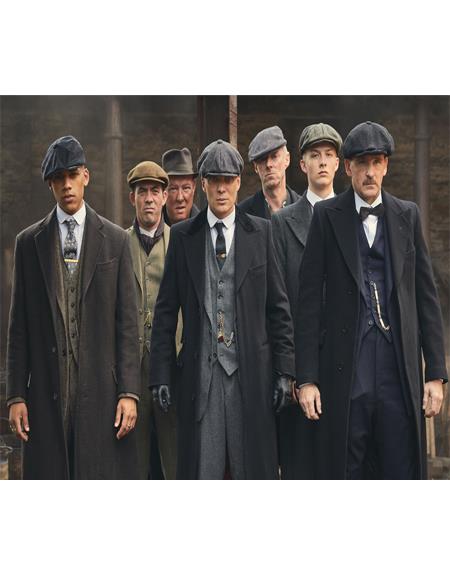 Get the Peaky Blinder Look!
The suits are the perfect mixture of the 1890s plus the 1920s, plus a little bit of 2020, and when combined with that charming English accent, you've got a winning character.
I think that the popularity of this character also has to do with Tommy's gorgeous blue eyes and the modern haircut, but that's just my opinion.
The suit (read more on What suits the Peak Blinder wear ), eyes, and hair, along with the accent and Tommy's ability to get out of any situation while looking good doing it is all part of the appeal.
If you're looking to buy Peaky Blinders suits for a wedding or other formal event, or you're into cosplay, wouldn't it be fun to be Tommy Shelby? Even if you're just interested in finding some retro clothing that will make you look cool for the next decade, this article is for you.
What Are Peaky Blinders Suits Called?
If you are going shopping, you'll want to ask for a tweed suit in the Peaky Blinders style. While there is no actual suit style, the material for this style of suit is called tweed, which is a very durable fabric that will last for decades.
The perfect Peaky Blinders suit can be made of several different patterns, or it can be a plain solid color. You'll often see Tommy Shelby in a herringbone tweed three-piece suit (see more Tommy Shelby suits ), but you can also opt for houndstooth or darker colors, such as charcoal grey.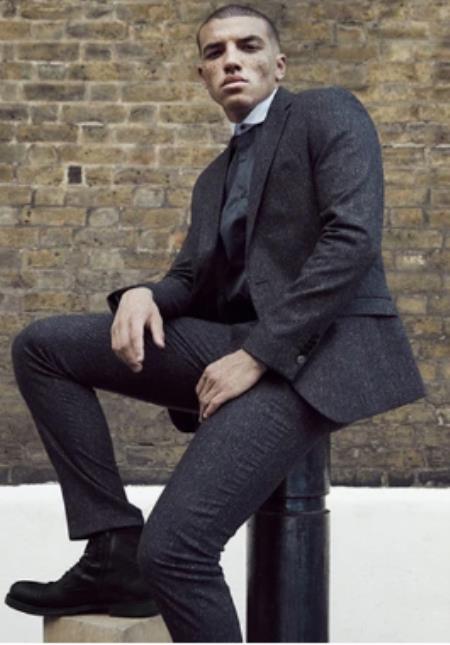 Get the Peaky Blinder Suit!
For those who love Arthur Shelby's style, notice that he frequently wears lighter colored suits, such as light brown.
Unlike in the US, those from England didn't go for very light colored suits, such as the pink suit from The Great Gatsby, but they did opt for lighter colors in patterns, such as this one.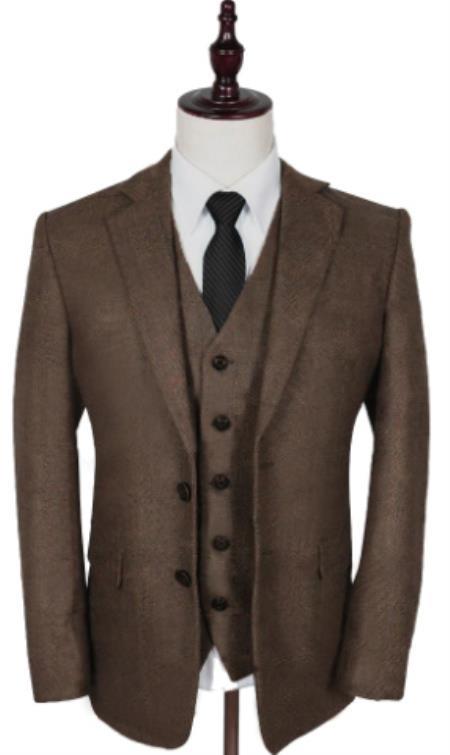 This color is a nice change from dark grey, and the pattern hides stains.
While the Shelbys can afford a multitude of suits, the average man often had only two suits, one in the wash and the one he had on, so durability and the ability to hide stains were important factors in choosing a suit.
What Are Suits Like in Peaky Blinders?
These suits are not that much different from the business suits you see today other than the fit.
You don't see too many vests (called waistcoats in those days) today other than at weddings or very formal events, but 100 years ago, the three-piece suit was king.
No businessman worth his salt would wear anything but a three-piece suit. If you were doing some unexpected heavy work, you simply remove your coat (and overcoat) if you wore one.
You can wear nearly any three-piece suit and have it tailored to fit. Make sure that the hem is a bit shorter than what you see today, ending right at the ankle.
You'll need the "peaky", as the English call the newsboy cap, a watch and chain, a pair of boots or lace-up Oxfords, a tie clip, and a long overcoat would be the icing on the cake.
If you don't want to spend time ordering each piece separately, you can always order a complete suit, including shoes, a hat, an overcoat, a shirt, everything you need to pull off the Peaky Blinder Thomas Shelby look.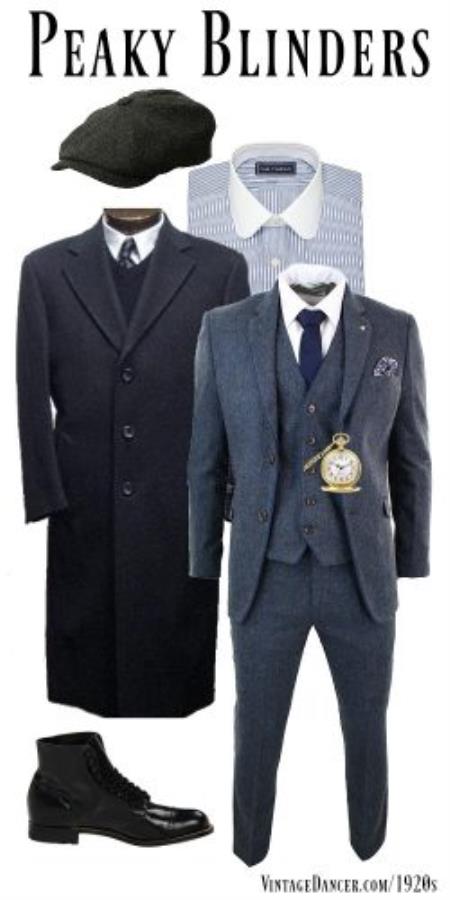 Oh, and who can forget Michael Gray?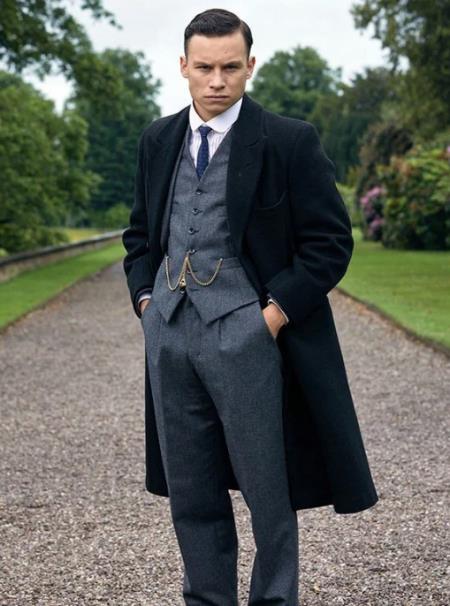 He's got nearly the same suit as his uncle, Tommy, but he is frequently seen without the hat.
If you're thinking of channeling your inner Arthur Shelby, whom everyone loves and hates simultaneously (Don't we all identify with his wife Linda!), then you can buy his complete ensemble and look just as dashing.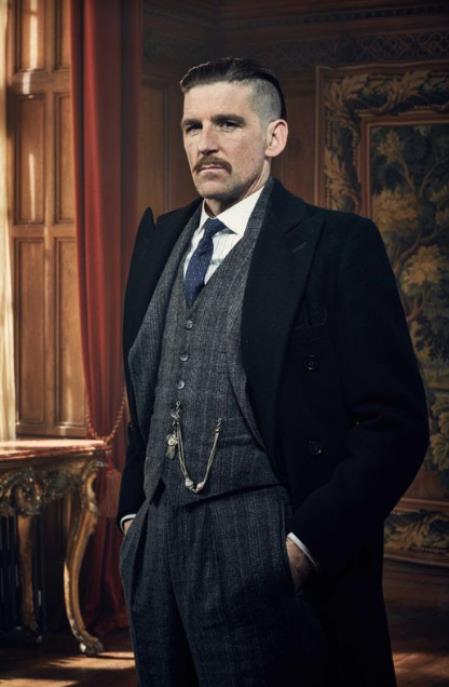 Arthur tends to favor bow ties, so pick a few different colors to match your suit!
If you want to stand out a bit from the crowd, you can go with a navy blue suit with chalk stripes.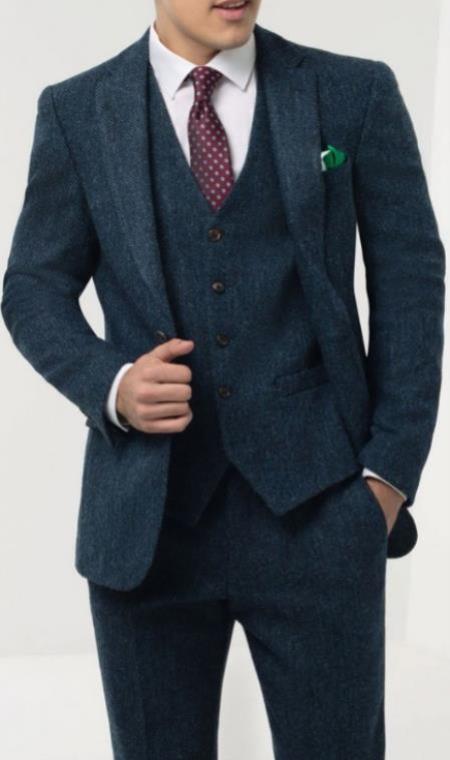 Get the 1920's Suit!
These suits tend to be a bit pricey, but in all honesty, you can wear them anywhere, and they will last for years. Try wearing one to the office, to a club, wedding, you name it. You'll be the center of attention, and if anyone asks if you're trying to be Thomas Shelby, tell them, yes, I am!
You can find less expensive suits, such as this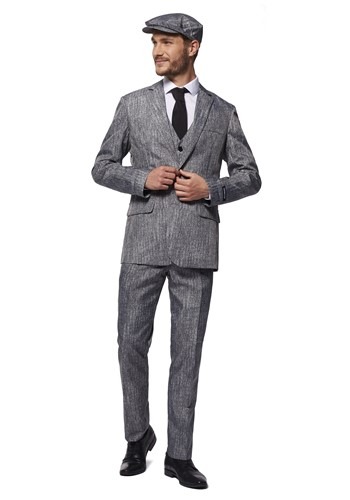 Get the Gangster Suit!
but you'll need to dress them up quite a bit to pass them off as Peaky Blinders outfit.
I'll talk more about what the proper accessories are in a bit.
How Do You Wear a Suit Like Peaky Blinders?
Suits haven't changed that much for men over the past century, but there's more to channeling your inner Shelby than simply wearing a three-piece suit.
One of the things I've noted in the series is the Shelby walk. Take a good look at any scene where they are walking to or away from the camera. While their eyes are often downcast, their arms stand out away from their bodies, as if they were ready to pull a gun at a moment's notice.
You'll also notice that they do more of a stomp than a step as they walk. They walk with confidence, but by keeping their eyes downcast a bit (hat pulled low so you can't see their eyes), they don't look cocky.
It's all about the confident attitude they exude, combined with the gorgeous suits.
The suit is one thing.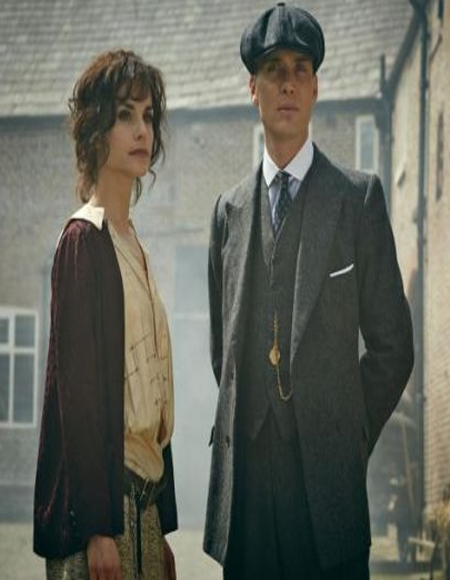 Once you've got the ensemble, you should practice the walk and the stand.
The Shelby walk reminds me of gunslingers in Wild West movies. Legs apart, hands out from your sides, looking down just a bit.
The Shelby stand is often seen either with hands behind the back, head held high or legs apart, hands at their side, coat unbuttoned for easy access to those weapons.
Remember that anyone can wear a Peaky Blinders 3-piece suit, a newsboy cap and an overcoat, but not everyone can emulate that Shelby stride.
Can I Wear a Peaky Blinders Suit for My Wedding?
As long as your bride doesn't have a problem with it, why not?
In fact, why not wear a Panama hat and have your best men wear a peaky blinders cap?
Start with a black or charcoal grey Thomas Shelby suit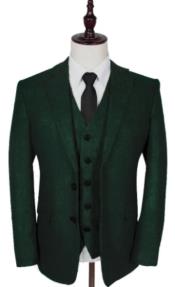 and add a tie and handkerchief to match your bride's colors.
Now top it off with a Panama hat.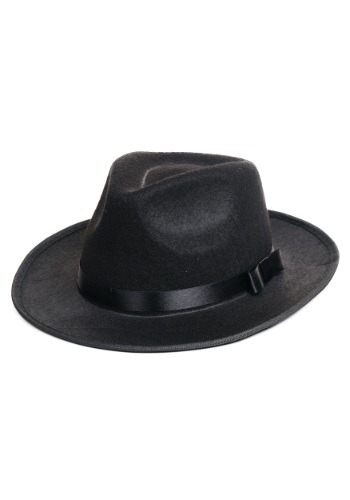 Don't forget the watch chain, boots, and tie clip!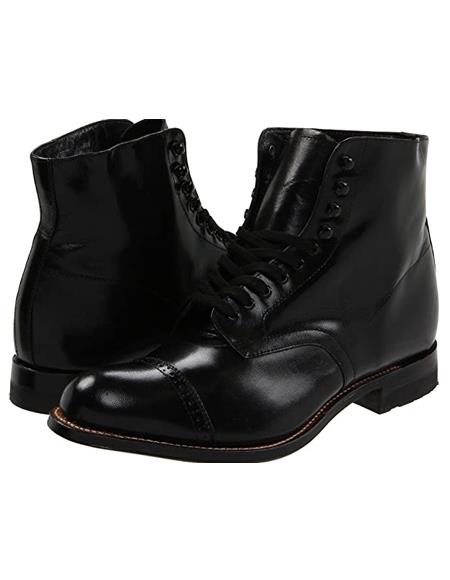 Get the Retro Style Boots
Have your groom's men wear matching 3-piece tweed suits along with the Peaky Blinder hat ( nowadays called newsboy or paperboy hats), and you're set!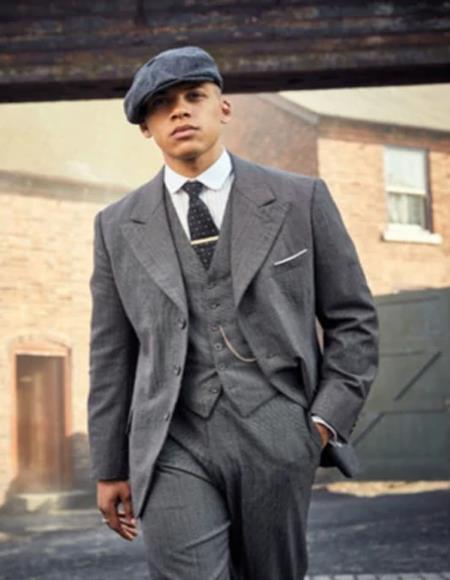 How to Dress Like Aberama Gold
If you would like to pull off a Polly Gray and Aberama Gold look, you're my kind of people!
I think Aberama is quite dashing and right up there in the same category as Tommy, only a few decades older.
The only real difference between Aberama Gold and Thomas Shelby is the hat and the overcoat.
Aberama seems to favor brown, so start with a nice three-piece brown tweed suit.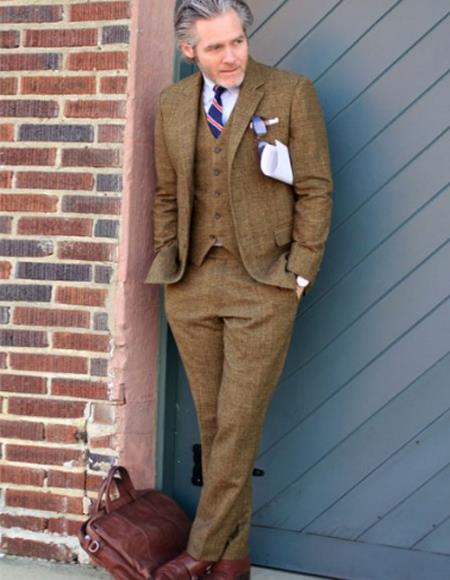 Instead of a peaky, you'll want a brown Panama hat, similar to this one.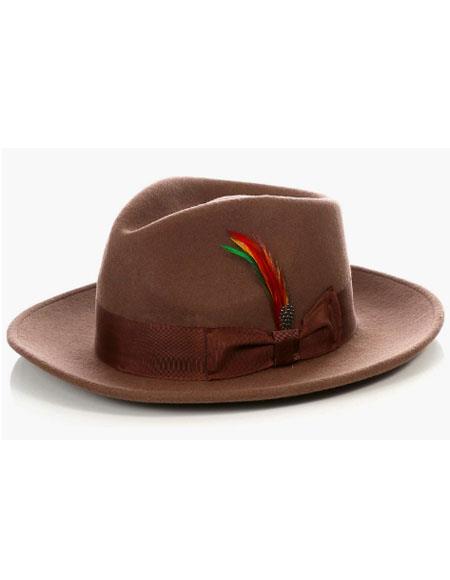 And, of course, a full-length brown double-breasted overcoat or a black one, like this below.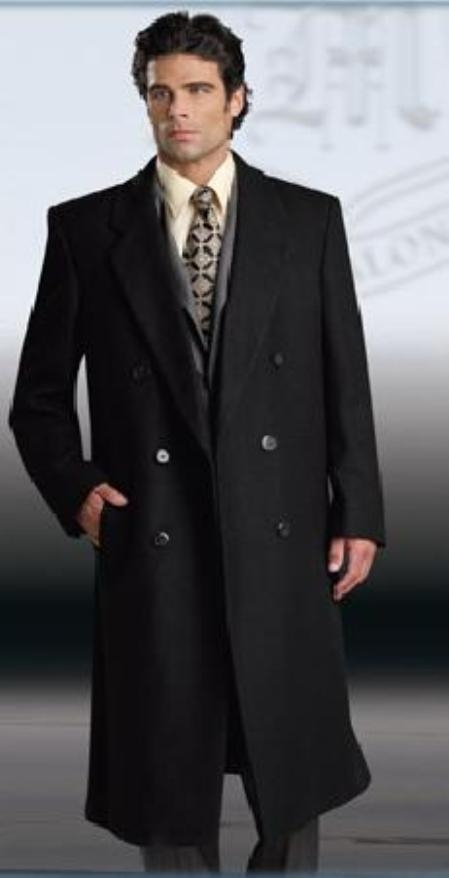 I recommend going with the typical black overcoat because it goes with more suits.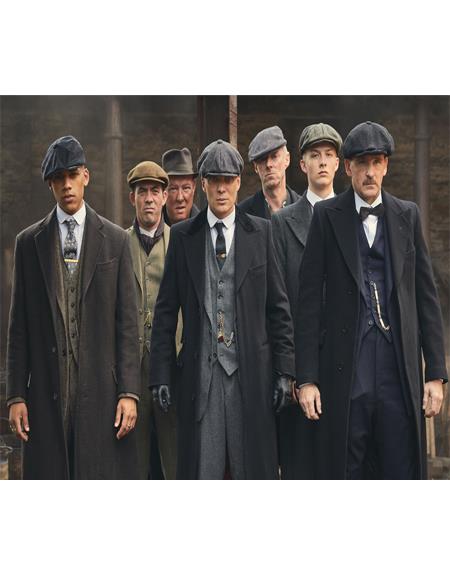 Get the Peaky Blinder Look!
For Aberama's character, however, I believe I only saw him in a black coat one time, every other time he wore brown.
Personally, I like Gold's hair when he had it long, but regardless of whether you choose to wear your hair short or long, a mustache is a must to pull off this look.
I Have a Suit, What Accessories Do I Need?
Since men's suits haven't really changed that much over the years, chances are that you can find a tweed suit in your closet or your father's closet.
It needs to have a vest to be a true Peaky Blinders suit, but otherwise, you simply need some of the right accessories to create that Thomas Shelby look.
Peaky or Newsboy Cap
Let's start with the hat. Today, we call it a newsboy or paperboy hat, but in England, this was commonly called a peaky.
If you pay attention to detail, you'll notice that most of the men in the series have one hat for nearly all occasions. This means that they may have a grey cap, but will wear a brown suit this week and a black suit next week, all with the same grey cap.
Most times, you'll see the leader, Thomas Shelby, in a matching cap but not always.
This means that the choice is yours here. Pick a dapper herringbone pattern tweed cap in brown color,
or a basic grey Peaky Blinders cap like this one.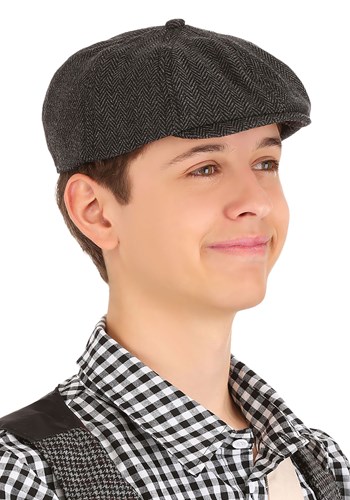 I don't recommend putting razor blades in your cap even if Thomas Shelby and company did so!
Necktie or Bow Tie
A skinny necktie would be another must-have accessory. Again, choose a contrasting color or you can match your suit.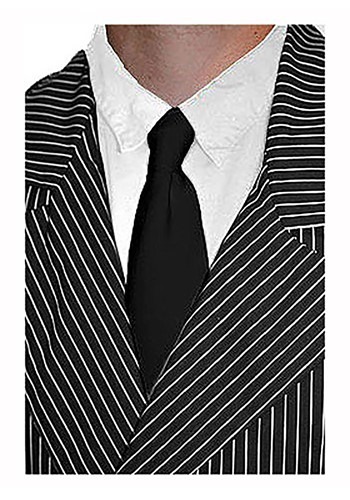 A bow tie would also be acceptable.
If you would like a matched set that includes a pocket square, a necktie, and a bow tie so you can change them around over the years, you can pick this accessory set.
Pocket Watch
A pocket watch and chain is another must-have for that vest. Keep in mind that 100 years ago, wristwatches had yet to be invented, so pocket watches were a must for the well-dressed criminal, I mean, Shelby man.
You can choose from gold or silver, but gold is more of a Shelby thing.
Boots or Oxfords
The big difference in the shoes you pick will be whether you are attending a very formal event or you really want to go all out with the Arthur/Thomas/Finn Shelby look.
For the Shelbys, it was all about the boots. These aren't the classic work boots like you might see on Thomas Shelby's mechanics, but rather, a gentleman's pair of boots.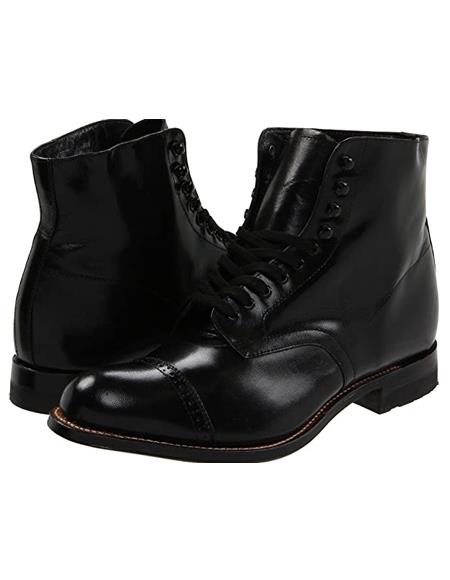 Notice how they look almost like the lace-up Oxford dress shoes but are taller at the ankle. These look really sharp with those shorter pants.
However, if you are attending a very formal event and you worry that even Thomas Shelby boots aren't going to cut it, you can always go for the regular Oxfords.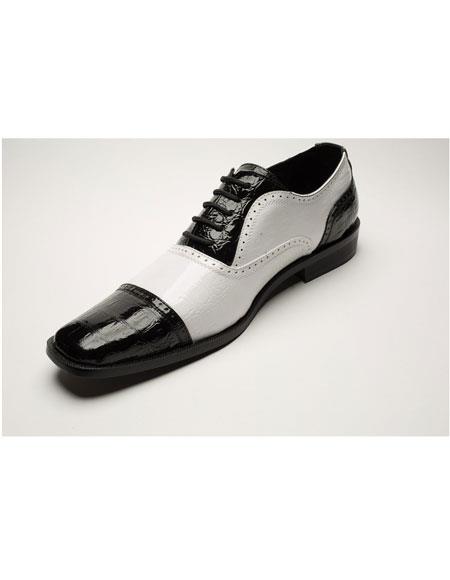 Overcoat
Last, if you really want the full Peaky Blinders look, you'll need the overcoat.
While any full-length overcoat will do, for a true Thomas Shelby fan, you'll want the overcoat that he is best known for in the Peaky Blinders series.
It's difficult to find the exact overcoat that Thomas Shelby wears unless you buy the entire outfit, but hey, a true fan knows what they want.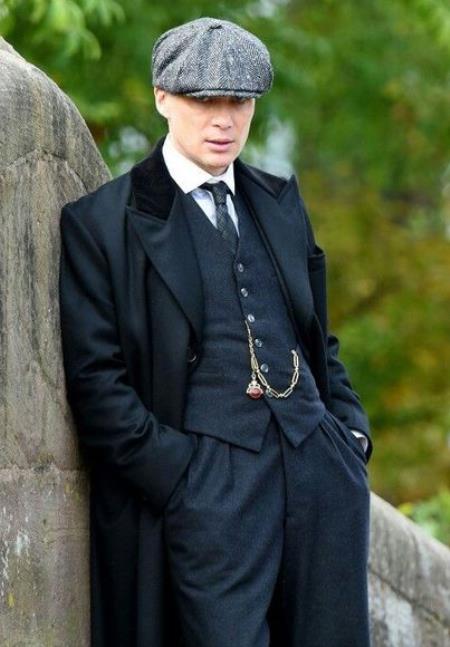 It's that touch of black velvet half collar that makes this coat look so elegant yet masculine.
How Can I Dress Exactly Like Thomas/Arthur/Finn Shelby or Michael Gray?
I know that when it comes to cosplay, the clothing can make or break your event.
You might find a complete ensemble a bit pricey, but let me tell you that these are high-quality suits that you will keep and wear for many, many years and to multiple events.
For Thomas Shelby– One look at this outfit and you will know that it simply screams "Thomas Shelby". This ensemble gives you everything but the shoes (see above for the perfect Peaky Blinder boots)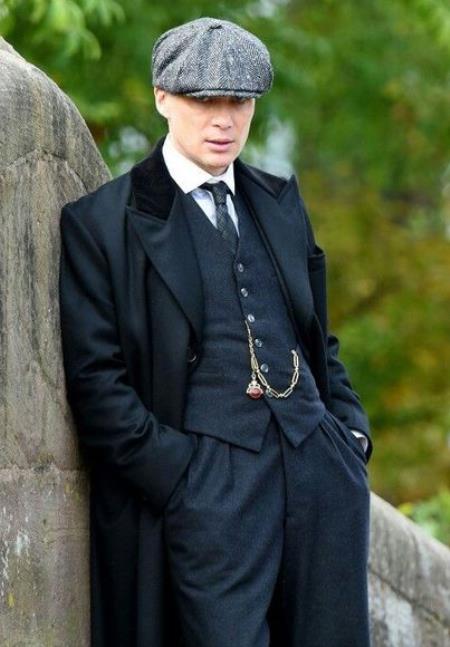 For Arthur Shelby– You'll want a lighter colored suit but a black overcoat like this one.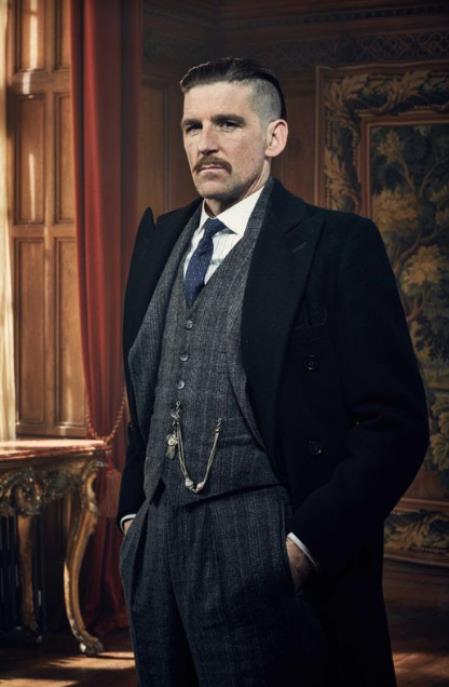 For this outfit, you just need a cap and boots, which are mentioned above.
For Finn Shelby– Finn is the baby of the family, but he knows how to dress like a Shelby.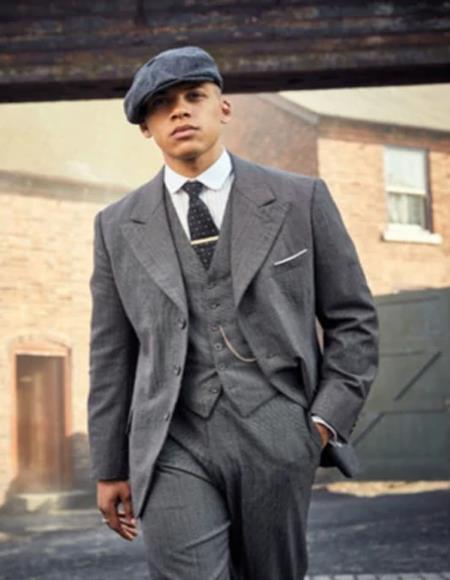 Top off this with the Shelby boots and you've got a winning style.
For Michael Gray – Michael likes to go his own way so you don't often see him wearing a hat, but the suit, oh yes, Michael wears impeccable suits and the black overcoat like his uncle Arthur.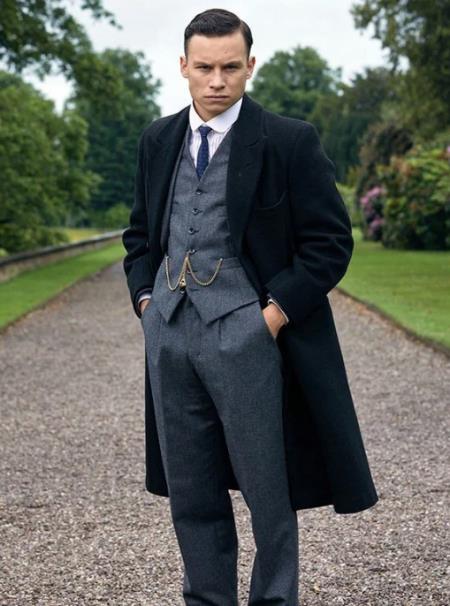 I've already mentioned Aberama Gold, but what if you had someone else in mind? I know that some people like to play the more minor characters, so let's give them a go!
For Curly – You know Curly, right? Tommy's very loyal but not too bright right-hand man? Curly is a working man, so you can get away with a shabbier suit. And you'll wear a fedora, rather than a peaky hat.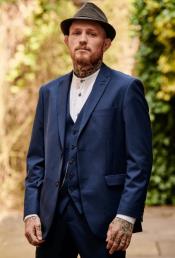 It would help if you were bald as well!
For Luca Changretta – Adrien Brody had so much fun playing this "godfather" part in the series that he didn't want his character to be killed off! Who can blame him?! You can get his look here.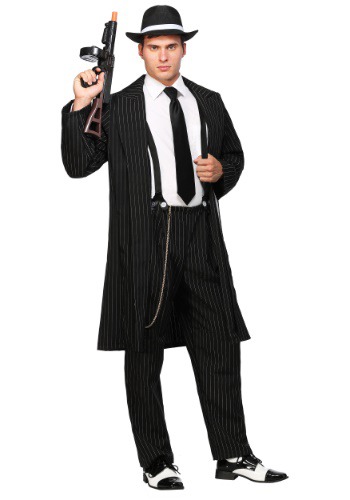 Or if you want something with higher quality and that gorgeous overcoat, there's this option.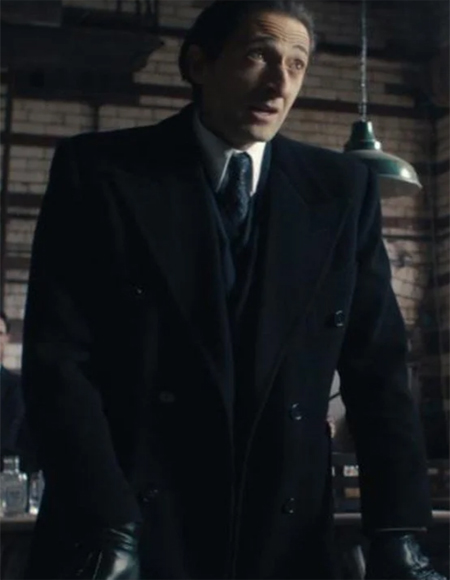 For Alfie Solomons– I can't tell you how many times I've tried to imitate Alfie Solomons' manner of speaking! Tom Hardy was simply brilliant in this part, and if you want to dress the part, that's fairly simple. You'll need a long black sports coat, no vest or tie, a white shirt, a white scarf, and that incredible hat.
You can wear this outfit minus the sport coat and vest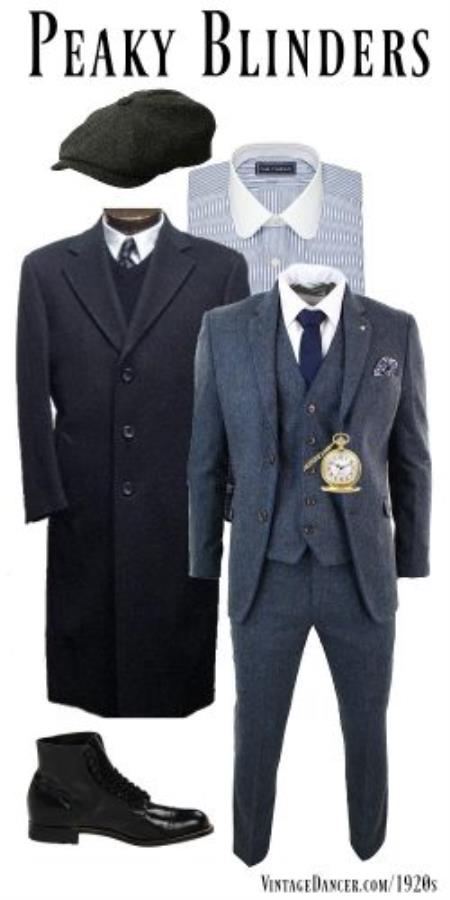 Get the Peaky Blinders Outfit!
or you can wear a black jacket, white shirt, and of course, his signature porkpie hat.
For Chester Campbell– You remember the dirty detective in the first season of Peaky Blinders, right? He sported a rather old-fashioned look from the turn of the century, and being an older man, that seemed perfectly fine. If you want to stand out from the other Peaky Blinder characters, you could go for Detective Chester Campbell.
Try this grey suit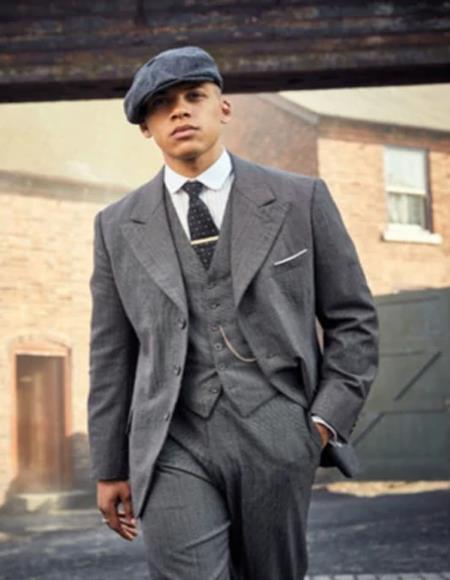 and go for the black overcoat.
Don't forget the derby
and the cane.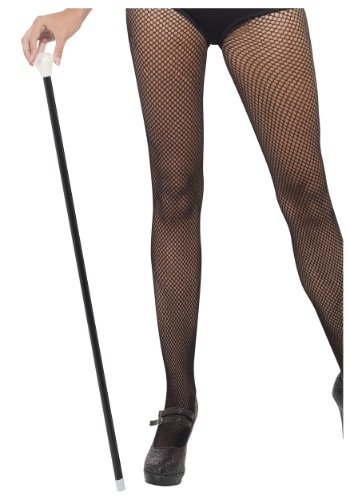 Peaky Blinders has gained an almost cult status that is sure to make your investment in a suit, hat, shoes, and overcoat something you will cherish for many years to come.
How Did Peaky Blinders Get so Popular?
It's probably due to the combination of several factors
   1. The scriptwriting is superb!
   2. The acting is top-notch
   3. Much of the storyline is true- demonstrating how emotionally damaging war is to young men but how it ends up making some very strong women
   4. This series is more than just "The Godfather" taking place in England. This is a series that will have you sitting up, jumping up off the sofa, leaving you with your mouth hanging open.
   5. Oh yes, the good-looking cars, suits, dresses, actors, and actresses are also another big plus.
I like series and movies with historical settings. Since I'm such a fan of the 1920s, I expected a few things from this series, but in all honesty, I have been blown away by the attention to detail and the plot itself.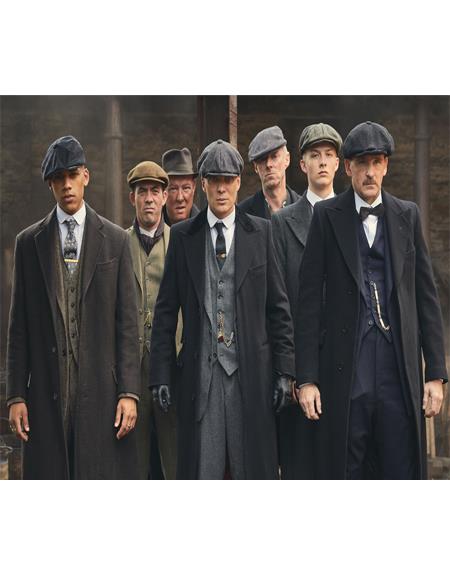 I get bored easily, and if I can guess the outcome of a particular movie or even an episode, you'll find me looking at my phone while the movie is on.
With Peaky Blinders, I not only can't look at my phone, I can't wait to catch the next episode! I'm very close to the finale, and I've been putting it off because I don't want it to end!
I'm not sure if everyone feels the same way I do, but many people must. Peaky Blinders is so darn popular right now they could come out with towels and curtains in this theme and I bet people would buy them!
Does Peaky Blinders Have a Moral to It or Something to Teach?
Those who think that this series should have a moral along the lines of "the wicked shall pay" are in for a big disappointment. I see the series as having a slightly different idea to teach, and that is "Always have a plan."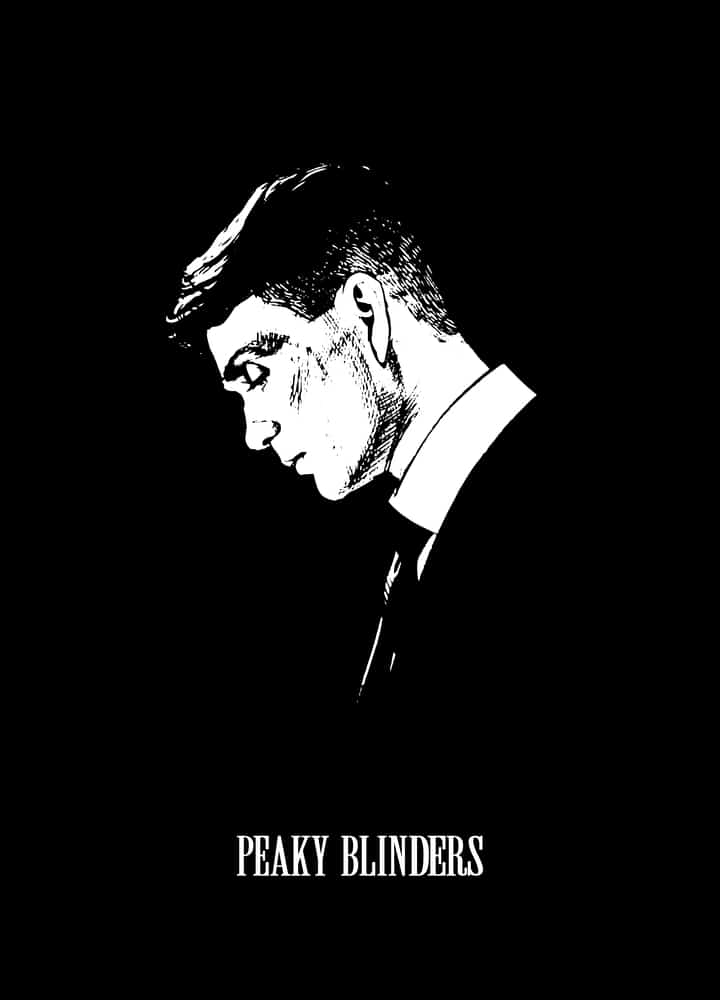 Perhaps even more than "have a plan", it's "have a meticulous plan." Notice that Tommy has every single detail laid out before he initiates it, and if something unexpected happens, he's usually ready for that as well.
I also think that Tommy has a team that he can count on most of the time. Everyone knows their role in the business, and they do their job. Sometimes someone falls down on the job, but everyone else will pick up the slack. They look out for one another as well, which is why loyalty is so very important to the Shelbys.
While there is a lot of drinking, smoking, and drug use, these are also dealt with, not ignored or glossed over. Everyone looks after one another, which may be what families are expected to do but doesn't always do.
I also like the way they address mental health issues, realizing that the war does more than just physical damage to young men. I'm not sure if this was true for those in England during these times, but I like the way the series addresses this issue.
Final Thoughts
The good news here is that dressing as Thomas Shelby or any of the characters from the series should be fairly easy for anyone who is willing to take a few minutes to check out the Peaky Blinder look.
A three-piece suit with pants that are cut slightly short, a double-breasted waistcoat or even just a vest, is as vital as wearing a tie.
The newsboy cap is vital and are readily available, as are the boots that were popular in this era.
I still believe that the overcoat is extremely important to the overall look, but if its summer, you can get away without the overcoat if you have the hat, boots, suit, and the gold watch.
Personally, I wouldn't mind if men started dressing this way again for everyday occasions. I'm tired of the baggy pants and ski cap, aren't you?
Let's hear it for the Peaky Blinders vintage look! And Thomas Shelby's blue eyes!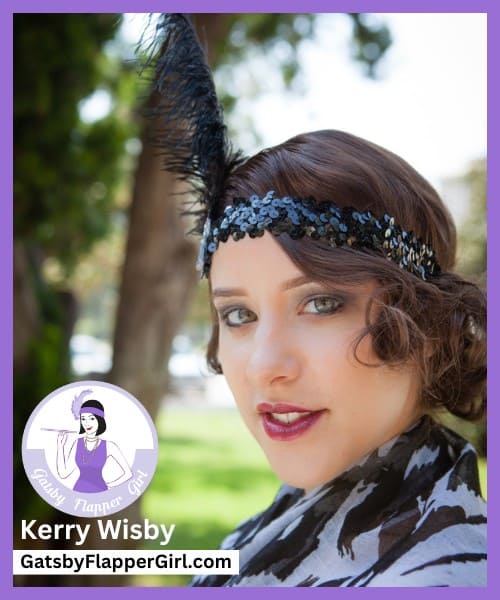 Written by Kerry Wisby – GatsbyFlapperGirl.com
Owner & Founder of GatsbyFlapperGirl.com
Kerry Wisby, a former teacher with a BA in English, is the founder of GatsbyFlapperGirl.com. With a passion for all things 1920s, including The Great Gatsby novel, her website is the ultimate source for Roaring Twenties fashion, history, and party ideas.  Read more about Kerry here.
Peaky Blinder Style Suits - Get Your Shelby On!
If you've seen even one episode of Peaky Blinders, then you know that everyone wants to wear the Thomas Shelby suit or be the girl seen with them!