We've all been there, right? You've been invited to a cosplay event, a costume party, or you're just tired of wearing the same old thing to summer weddings.
For those who find themselves in this dilemma, you will find today's article extremely helpful.
 Get this Paisley Great Gatsby Dress!
The 1920s is perhaps best known for flapper dresses and fun attire. While you may not want to wear a flapper dress to a wedding, did you know that there were plenty of other styles available to women and men in the Jazz Age?
When Coco Chanel talked about her little black dress and showed off her legs with dropped waist dresses, fashion trends took a sudden turn for the better.
Let's look at what was fashionable 100 years ago and how you can pull off a Roaring Twenties outfit for your next event.
A Short History of Women's 1920s Fashion – 1920-1929
The daughters of women who wore the Victorian era fashions of floor-length dresses, petticoats, hoops skirts, and corsets wanted nothing to do with their mother's and grandmother's ideas about what was "proper".
During this decade, young women wanted to be comfortable and to dress so that they were able to do things, such as dancing, golfing, and swimming.
This led to a huge fashion upheaval. While some thought these clothing styles were immoral or just plain shocking, most women embraced the change.
Dropped waist dresses began to see the light of day around 1919-1920. To accentuate the slim hips, sashes or beading was placed in this area to draw attention to it.
By 1922, beads and sequins began to embellish the bodice and soon, the entire dress.
Get this Long Fringed Dress!
Dresses for parties or more formal events showed far more skin than everyday clothes. It was common to see women in grocery stores, for example, wearing a sweater, skirt, and a cloche hat.
Get this Retro Polka Dots Skirt!
While ladies of the Victorian era wore huge hats, women everywhere ditched this style for cloche hats and fascinators or beaded headbands. Since shorter, bobbed hair was in fashion, it made wearing these headpieces easier than ever before.
Get this 1920's Flapper Headband!
cloche hats, usually decorated with a fake flower on one side, were a popular, everyday style that most women found easy to wear.
Get this Wool Cloche Bucket Hat!
Men's styles changed very little during this period, with most men wearing whatever their job dictated, whether that be a three-piece suit and tie or a working man's outfit.
Get this Classic 3 Piece Men's Suit!
By the end of this decade, the Great Depression had hit full force and women's fashion trends changed once more.
Very few women had enough cash for formal dresses, which made the shift dress, with its apron and low-heel shoes, a sensible choice for cash-strapped day wear and more form-fitting suit-type dresses for church or other events.
Get this Vintage Cocktail Dress!
Why Was Fashion Important in the 1920s?
Fashion trends during this decade were the frontrunners of the independence of American women.
World War I caused many women to leave their home and go to factories and other industries to work. This led to a women's revolution, not only in society but in fashion houses as well.
Women could not do some of these manual-labor jobs with floor-length dresses, corsets, and tons of hair.
Not only did women begin to ditch their traditional clothing styles, but they also began inventing new ones.
Fashion icons like Coco Chanel and Louise Brooks began showing the country that women might have short hair and wear makeup but still be feminine and ladylike.
Shirtwaist dresses worn with low-heeled Mary Jane's were a popular style that kept the feminine flair but very practical.
Get this Shirtwaist V Neck Dress!
Evening gowns or evening dresses didn't need to be short to be sexy and provocative.
Get this Elegant Mermaid Hem Dress!
As women began to show more skin, they needed shoes to suit the occasion. The button-up boots from the turn of the century were gone, and the T-strap or Mary Jane oxford could be worn for all occasions.
Get this Rozz Mary Jane Shoes!
Silver or two-toned shoes could be worn with evening gowns, but even a flapper dress paired with a pair of Mary Janes was perfectly acceptable.
Get this T-Strap Two Toned Shoes!
When most people think of the 1920s, they instantly think of speakeasies and flapper dresses. Flapper dresses were thought to be fairly scandalous since they were often low cut and had knee-length hemlines, but in all honesty, most flappers wore a dress that had fringe-covered hemlines and modesty panels or sheer sleeves to avoid overexposure.
Get this Fringed Flapper Girl Dress!
As women began to earn their own money, buy their own clothing, were able to vote for the first time, women's liberation began to take hold with the majority of women deciding to make their own lives, rather than rely on men.
1920s Fashion for Older Ladies
While we generally speak about the young flappers when we talk about the 1920s, the truth is that many middle-aged and older ladies were also happy to ditch their corsets and feel more comfortable.
The mature woman may have thrown out her petticoats and hoop skirts, but she didn't want to appear modest and matronly- no way!
Dropped-waist dresses could be worn by young and older women alike. Simply drop the hemline a bit and make certain that the neckline covered the decolletage, and that the dress had some type of sleeves.
Get this Red Flutter Sleeves Dress!
Bows in the bodice were common.
Get this Roaring 20s Great Gatsby Dress!
If the dress showed a bit too much skin, they could wear sweaters, cardigans, or scarves to improve the modesty factor.
Get this Vintage Inspired Sweater!
Speaking of scarves, all types of scarves, shawls, wraps, and boas were at the height of fashion during these years.
For the more modest, older female, a fur wrap or fur stoles were popular items to go with evening dresses.
Get this Faux Fur Shoulder Collar Scarf!
Scarves and shawls weren't like the ones grandma wore, but were fashion items that were all the rage. Younger women might opt for what is now called a shrug.
Get this Beaded Gatsby Shawl!
However, older women might choose a large shawl that they could wear draped over their heads or simply drape it across the arms.
Get this Floral Sequined Shawl!
Costume jewelry could be worn with evening wear or house dresses. No matter your age, a string of fake pearls or earrings could dress up even the most boring of outfits.
Get this Knotted Faux Pearl Necklace!
Well-heeled, older women looked to fashion icons, such as Mae West, for their fashion ideas.
Get this Fringed Maxi Dress!
Beading, sequins, and even fringe were perfectly acceptable for women over 40, as long as they were modest.
Get this Sequin Bodycon Gown Dress!
Older women didn't need to stay home or wear frumpy dresses if they chose not to!
I'm Plus Sized- Can I wear 1920s Vintage Fashions?
Of course, you can!
While the styles during this period leaned more towards the pencil-thin look, keep curvy models in mind like Mae West and Greta Garbo.
You can wear the traditional flapper dress or go with knee-length day wear dresses.
Get this 1920s Inspired Flapper Dress!
Remember that it's all about the accessories that will make or break your outfit. It's easy to find plus-sized vintage dresses, even formal dresses, that come with a complete array of accessories.
Get this Beaded Dress with Accessories!
Want to cover up a bit more but not look too matronly? Keep a beaded and sequined dress in mind and you're sure to be a sensation.
Get this Elegant Beaded Sequin Dress!
Last, but not least, if you're attending a wedding or a garden party, you don't want to upstage anyone, but at the same time, there is no need to look like a wallflower. Remember that 1920s fashion was all about flash, so add some glittery mesh or sequins to your outfit for a sure-fire pre-stock-market-crash look.
Get this Metallic Crochet Dress!
Shoes, Hats, and More
Fashion designers know that it's the shoes that make the outfit. Imagine Oscar night where all the ladies are wearing plastic crocs, and you'll understand what we mean.
During this decade, women moved away from the button-up or lace-up boots that had been staples for decades and went for lightweight, chunky-heeled t-strap shoes that were often called Mary Janes.
Peek-a-boo cutouts were OK, but open-toed sandals or sky-high heels were not available just yet.
Get this Closed Toe Shoes!
You might find two-toned shoes for women that mimicked the two-tone shoe styles for men, but shoes with accents, such as these were much more common.
Get this Two Tone Shoes!
If you take note of photos from this time period, you'll notice that everyone, and we mean everyone, wore a hat if they were leaving the house.
Cloche hats were extremely popular for daytime wear.
Get this Vintage Cloche Bowler Hat!
A fake flower or a ribbon might be worn on the hat but most were quite plain.
Get this Cloche Bucket Hat!
For parties or evening wear, headbands and fascinators were all the rage.
Get this 1920's Style Feather Headband!
Ribbons, sequins, beading, and feathers were always a popular choice.
You still see hatinators or fascinators worn at most events that the royals attend, such as parties or horse racing. These were also popular items for tea parties or other events, and one of these can really put the finishing touch on any vintage trend.
Get this Feather Pillbox Fascinator!
Gloves, dangling earrings, and feather boas were also popular items. Who can forget to bring along a fan for those hot summer weddings or for covering your face when gossiping?
Get this Feather Pillbox Fascinator!
If you are interested in some of these items, you'll probably find that accessory sets are your best option.
Get this Flapper Crystal Accessories Set!
How to Dress for a 1920s-Themed Party?
This isn't as difficult as you might think.
Women did not wear trousers or pants yet, so you'll need to find a dress that suits the occasion.
Is this a Great Gatsby type of party? Are you interested in dressing as Daisy Buchanan or one of the many flappers, such as Jordan Baker?
The flapper look is easy. Look for a dress with lots of beading, sequins, and fringe for starters. You might like this look
Get this Paisley Great Gatsby Dress!
or consider something more like this.
Get this Tiered Fringe Sequin Dress!
If you're more inclined to go with the Daisy Buchanan look, you'll still want the beads and sequins, but perhaps a bit more modest of a dress such as this one.
Get this Flapper Dress with Sleeve!
For those of you who are short on time, consider a complete ensemble that contains everything you need to pull off a Great Gatsby or 1920s party outfit.
Get this Evening Dress with Accessories!
All you need are the shoes, and you are set! Party attire doesn't get much easier than this!
What Did Men Wear in the 1920s?
Unlike women's fashion, men's fashion trends change much more slowly.
For the majority of men, a three-piece suit was the typical outfit of the times. Perhaps the only differences you might note are that the pants were baggy but cut tight at the ankles (no boot-cut or bell bottoms!)
Get this Black Tweed 3 Piece Suit!
Suspenders were more commonly worn than belts, and a chain with a pocketwatch was absolutely essential.
Get this Vintage Style Pocket Watch!
Ties and kerchiefs were part of a complete ensemble, and shoes were typically the oxford or wingtip-style shoes.
Hats were frequently the straw-boater or the derby, sometimes called a bowler hat.
Get this Retro Gatsby Accessories Set!
You'll note that men had no problem wearing pinstripe (called chalk stripe) suits or suit colors that we wouldn't dream of wearing today, such as pink, or lavender, but the typical brown and grey suits were still the norm.
Get this Solid Color Party Suits!
Long-sleeved shirts with round collars were also popular during this time.
The gangster look was extremely popular, but older men stuck with the basics of black and grey suits, or tuxedos and top hats for more formal occasions.
The Bottom Line
The stark contrast from clothing styles of the 1910s to the 1920s is something that fashion designers everywhere have tried to emulate or recreate.
Stunning and creative clothing, art deco jewelry, shorter skirts, longer fringe, and other changes were what made the 1920s fashion trends so memorable.
Whether it was the little black dress or the flapper dress that dripped with fringe, there was very little about this era that was subtle, which is what made it so much fun even 100 years later!
Here's to the brave women of this decade who dared to be different and embraced a life that Americans would never experience again.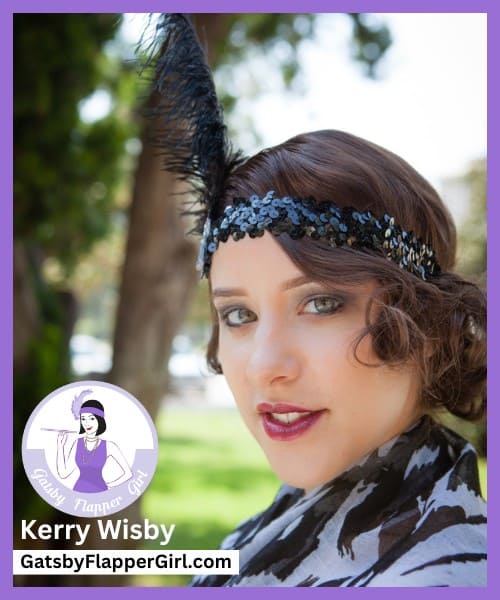 Written by Kerry Wisby – GatsbyFlapperGirl.com
Owner & Founder of GatsbyFlapperGirl.com
Kerry Wisby is the owner & founder of GatsbyFlapperGirl.com, your go-to source for all things 1920s & The Great Gatsby. With a passion for the era & a wealth of knowledge to share, Kerry is dedicated to providing you with everything you need to know about Roaring 20s fashion, 1920s history, & Great Gatsby-themed party ideas. Join Kerry in bringing the spirit of the Roaring 20s to life! Read more about Kerry here.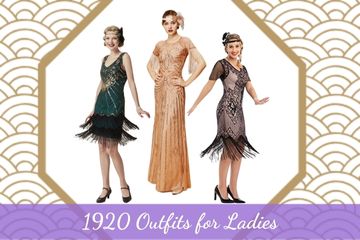 1920 Outfits for Ladies: Dazzling & Chic Guaranteed to Impress
For anyone interested in simple, comfortable, yet stylish clothing, look no further than the 1920s. The women of the Jazz Age knew that fashion didn't have to be frumpy!