Now that the 2020s are here, it means that an entire century has passed since the beautiful period of the roaring 20s! We have all only seen it in the movies, but wasn't that a great time?
Both men and women were daring to wear different clothing than before, but elegance was always mandatory. Even the children's fashion was classy, even though comfort became the primary consideration.
Would you like to dress up your baby girl in a Gatsby outfit? Whether you are getting her ready for a special occasion, or a fun day out, 1920s clothing will ensure your toddler looks dazzling. You will find numerous great dresses and outfits on the market, but check out these great clothing items!
A Classy Dress for a Princess-Like Look
We will start with an amazing dress designed by Emmababy. It is clear as soon as you check out the photo that this dress looks classy and elegant. My friend bought it for her baby girl when they visited us for Christmas. The girl looked amazing, and reminded of a true princess in this dress!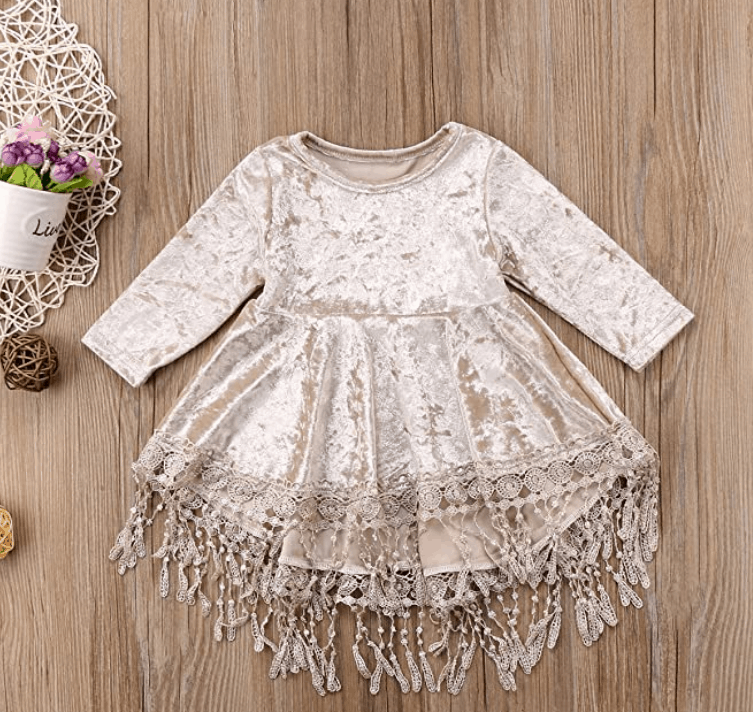 The outfit is perfect for special occasions. The reindeer design makes it perfect for special occasions like New Year's Eve and Christmas. The sizes vary, and the lowest one available is for a six-month toddler. As your girl grows bigger, you can pick a larger size up until she is five years old.
The tassels are a signature of the roaring 20s, and the swing design promotes your child's movement. That not only fits the 1920s fashion, but it also ensures that your baby girl will feel comfortable in the dress. If you are going on an event where you will spend hours, that guarantees the dress won't bother the toddler.
A Romper Inspired by the 1920s
Rompers used to be extremely popular, and you will find people wearing them even today. However, it seems that rompers never went out of style with toddlers. That is understandable because single-piece bodysuits are easy to put on, and they provide the necessary freedom of movement.
Take a look at this romper and headband set designed by Zcaynger.
The lace bodysuit looks both simple and elegant. You can choose various designs, but take a look at this purple color. I believe that it is the perfect color for baby girls, and it emphasizes all their purity and innocence.
The lace and polyester mixture are soft to the skin and ensure optimal breathability. The short length of the romper gives your girl the room to move her legs and arms freely. The design features details that remind us of Gatsby's era. That starts from the lack of sleeves, and the pattern complements the overall 1920s appearance of the dress.
If you are worried about the dress being see-through, let me tell you that there is no need to worry about that. The dress has a layer of cloth to prevent it from being see-through. Make sure to choose a fitting size as there are dresses for toddlers as young as three months old, and up to two years of age.
Get Ready for a Special Event
Costume parties are sweet, as well as going out for a walk with your toddler. But if you are getting ready for a special occasion, that means you need to pick your toddler's clothes carefully.
Fortunately, 1920s fashion is an endless inspiration for special events. For example, check out this beautiful lace romper headband set.
The first thing that comes to mind is that this set is perfect for a photography session. The suit is made of polyester, but it is still very comfortable and breathable.
Notice the floral details on the chest. The manufacturer paid close attention to designing them, and the rosettes are of exceptional quality. They also have a matching design to the ones featured on a headband. The bow on your baby girl's head will make her look cuter than ever!
A Classy Vintage Christening Gown with a Bonnet
Christening is a special occasion, and one of the most important events in the life of both the children and their parents. This vintage set features a white cotton gown with a matching bonnet.
The gown is of exceptional quality, and the manufacturer made it from 100% cotton. Since it is long, cotton is vital because it will secure the necessary skin breathability. The gown features a lace trim and a bonnet that make the entire combination vintage.
The clothing set is also suitable for other formal and religion-related events. Don't hesitate to choose this as your baby girl's outfit for a wedding or a similar occasion.
Let's move to another fantastic gown and cap set for formal events. Stephan Baby designed it, and it is suitable for toddlers not older than six months.
I have a friend who decided to purchase this dress as a baby shower present. It is the perfect choice because it is suitable for newborns, and it is also a way to give them a classy welcome to this world.
The manufacturer used high-quality materials for the set, and the gown and cap both have 95% cotton. A small portion of spandex is added to boost elasticity. As your baby moves, the clothes will stretch to ensure maximum comfort.
The design looks like something that would be worn in the 1920s. The drop-waist gown features chiffon rosette on the hem, cuffs, and bodice. The ribbon bow only contributes to the amazing appearance!
A Flower Girl Dress
It wasn't my original intention to include as many dresses on the list, but when I noticed the Bow Dream's model, I had to make an exception!
The beautiful outfit has a simple but elegant design. That makes it suitable for special occasions, such as being a flower girl, but also for everyday wear. The comfortable design won't limit the moves that your baby girl makes.
The vintage lace makes the dress beautiful, and cap sleeves are my favorite detail. The dress is not see-through since it comes with a cotton lining.
A Genuine Gatsby Outfit
Is there a better fit for a 1920s clothing outfit than a dress that manufacturer designed with this era in mind? Pippa & Julie came up with this fabulous Gatsby-inspired dress for newborns!
The dress is suitable for toddlers that are between six and nine months old, although that always depends on your baby's growth rate. If you get the size right, you will love this clothing item!
The dress is suitable for summertime and active babies who move frequently. Although it is made of polyester, it is surprisingly soft and comfortable. The material makes it easy to maintain since you can wash it in a washing machine.
The dominating color is pink, but it is so soft that it reminds of a dusty mauve rather than classic pink. The floral application is another gorgeous detail that will ensure your baby is the hit of any event you visit!
Add a Headband to the Combination
If there is a clothing item that women of all ages loved wearing in the 1920s, it is a headband. Some of the clothing sets mentioned previously contain headbands, but why not buy more ribbons and bows to mix and match?
Take a look at this classic pink headband that screams, "hi, I am the cutest girl you've ever seen!"
The headband is wide and made of lace. It features a big pink flower on the side to add to emphasize your baby's cuteness.
If you are not a fan of wide headbands, check out this Miugle Baby Girl chic bow.
The chiffon fabric is combined with an elastic band, and the manufacturer added a floral application with a pearl in the middle. Since the band features excellent elasticity, the bow is suitable for newborns and children up to six years old.
Please note that the color is ivory, which means it will go great with cream dresses. If you think of it, the bow can complement a wide range of clothing, so don't be afraid to get creative!
Frequently Asked Questions
Q: What was the most popular girl's name in the 1920s?
A: According to the information provided by Social Security, Mary was the most common girl's name in the 1920s. It was the name that more than 700,000 girls born in the 1920s had, which is almost two times as much as Dorothy in the second place (368,000). Apart from those two, girls also had names like Helen, Margaret, Betty, Ruth, etc.
Q:  What did children wear in the '20s?
A: The way people dressed changed significantly in the 1920s, and children's fashion wasn't an exception. The focus was on clothing items that were comfortable and encouraged movement. It was all about being practical. The popular materials included cotton clothes and canvas shoes. A sweater with a serge skirt or a sailor suit was frequently worn during the winter. Ribbons and big bows complimented the style perfectly.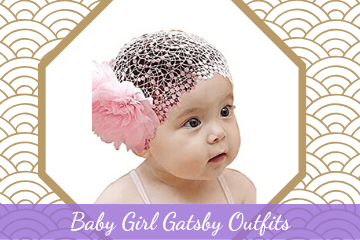 Gorgeous Baby Girl Gatsby Outfits
Do you love the 1920s fashion, and you would like to dress your kid that way? Check out our selection of the top baby girl Gatsby outfits!