After nearly 100 years, Bonnie Parker and Clyde Barrow still hold a certain amount of appeal for millions.
Whether it's the romantic notion of "till death do us part" taken literally by the pair or their gruesome death that appeal to gore-lovers, you can't help but wonder why this pair of lovebird outlaws don't just fade into the pages of history books.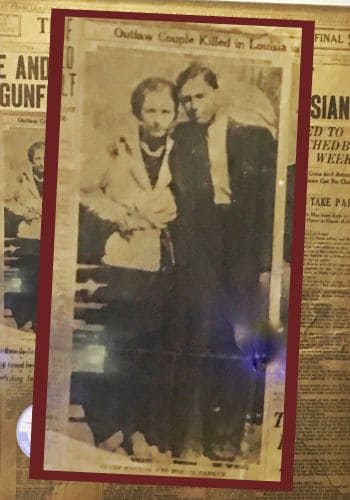 Of course, if people could foresee in the 1920s that anything even remotely related to Bonnie and Clyde would be worth a fortune today, perhaps more of their personal effects would have been preserved.
As it is, anything that could even remotely be related to this criminal couple is sold as "genuine and authentic". Unfortunately, most of the "memorabilia" sold online are as fake as a three-dollar bill.
How can one verify that something actually belonged to or was used by Bonnie and Clyde? Can an individual actually purchase something owned by this pair?
Are there museums or other places where you can see verified belongings or pieces from Bonnie and Clyde's life?
Let's delve into the mysteries and secrets behind the artifacts that supposedly belonged to Bonnie and Clyde.
The Coolest Verified Bonnie and Clyde Artifacts
It can be mind-blowing when you hold or see a piece of history in your hands. Some people feel so drawn to these items that they feel compelled to own them at any price.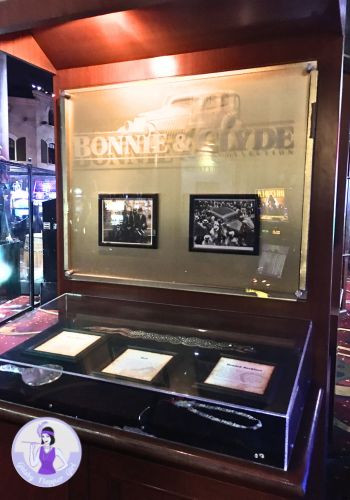 Some items have been verified as either belonging to either Bonnie or Clyde, or on occasion, the artifacts were found in a building or a campsite where the Barrow gang was known to hang out.
In such case, it means that it could have been used by the couple, and even if they didn't actually touch the item, someone in the Barrow gang did.
A Shotgun
The first artifact that has been handed down through history is a sawed-off shotgun recovered from a rented house in Joplin, Missouri that the Barrow gang was using as a hideout.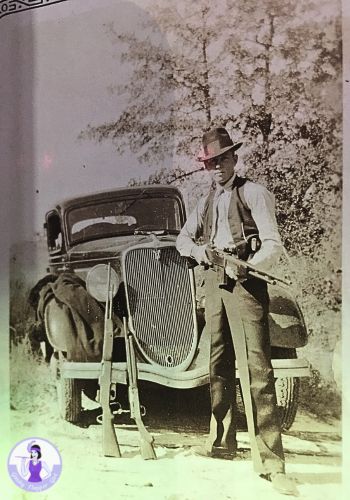 We may never know if Clyde ever used this shotgun. When the house was raided by the police, someone from the gang used that shotgun and killed two police officers, leaving the gun behind as they drove off.
According to Bobby Livingston, executive VP of a Boston-based auction house, the shotgun was sold at an auction in 2019 for $68,750 to a private buyer.
Arrest Warrants & Mugshots
Also sold at a 2017 auction were arrest warrants for the couple, signed by Dallas County Sheriff Schmid. Schmid's personal notebook or scrapbook also contains some of his handwritten notes regarding the couple.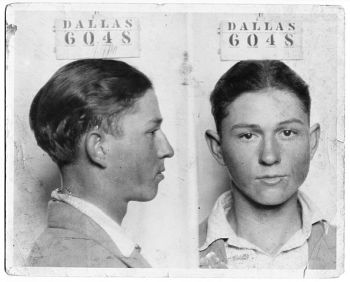 Postcards, Letter
Postcards and a letter from Raymond Hamilton, a close friend of Clyde Barrow, were also auctioned off in 2016. Hamilton and Barrow had a falling out after Bonnie and Clyde broke him out of jail.
Hamilton was recaptured and sent to the electric chair just 6 months after he wrote his letter to Clyde Barrow. A program (if you can imagine such a thing!) of his scheduled execution is included with his postcard and letter.
A Button
Perhaps one of the smallest and most unusual things that was sold at an auction was a single button, removed from Clyde Barrow's blood-stained shirt. A local collector, Charles Herd, purchased the shirt from Clyde's sister Marie. Herd removed a single button after he sold the shirt in 1997.
Where Did Some of these Artifacts Come From?
Bonnie and Clyde's relatives were rarely told about their family history until they were adults. They were often remanded to never speak about their history and to keep things secret.
Bonnie Parker's last remaining relative, niece Rhea Leen Linder, had actually been named after Bonnie, but her mother had her name officially changed after Bonnie's gruesome death.
In the video below, we get a glimpse of some items being auctioned as Bonnie and Clyde artifacts and memorabilia.
It wasn't until about 1999 that Buddy Barrow contacted Rhea Linder and began talking about how the couple should be reunited in death. As they talked about plans to have the couple buried together, they went public and spoke to the media in hopes of earning the cash to accomplish this.
It was soon after that new items began to hit auction houses. Some items were donated to family and close friends, who photographed the items for the sake of history.
While Bonnie and Clyde's Death Car and Clyde's blood-stained shirt are well-known and on display at a casino in Primm Valley Resort, other items have been saved by the family over the years and are only now being displayed.
Little Known Artifacts Saved by the Families of Bonnie and Clyde
Promise Ring
One item that recently surfaced is a promise ring that Bonnie wore, made by Clyde Barrow. Clyde's relative, Buddy Barrow, confirmed that Clyde liked to make jewelry and that the ring was genuine.
While no one is saying where the ring came from, Buddy says that Bonnie should have been wearing it when she was killed, so it's possible that the sheriff or the undertakers removed it.
Bulova Watch
Another item that was recently revealed was the Bulova watch that Clyde wore when he was killed. The watch was well-known when Clyde was alive as he was quite proud of the timepiece. It disappeared after his death but reappeared in the early 2000s.
The watch, with the crystal still intact but part of the band missing, was sold at a Boston auction in 2019 for $112,500.
Reading Glasses
Many people did not know that Bonnie wore glasses. Not sunglasses, but reading glasses. While there are no photos of Bonnie wearing them, that makes sense when you consider that many people remove what they consider to be unsightly glasses before a photo is taken.
These silver-framed, wire lenses resemble the style that John Lennon wore. They were given to an auction house by a family member who wanted to remain anonymous. They are in nearly perfect condition, other than they are blood-stained and missing one nose rest.
Some people question the authenticity of these glasses, but family members insist that they are real.
Poems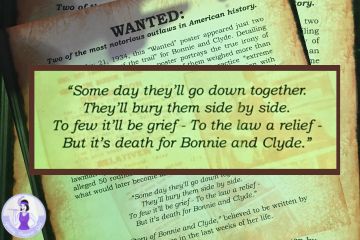 Bonnie's poems, including Suicide Sol, are held by private collectors who put them up for auction but then changed their mind. The poems, written by Bonnie, came from Blanche Barrow's estate.
Unfortunately, many profit seekers will sell just about anything to make a few bucks off the names of Bonnie Parker and Clyde Barrow.
How to Spot a Fake Artifact from Bonnie and Clyde
It appears that everything that has survived father time is known and photographed.
There are only a small number of items and some of those have been duplicated in an attempt to sell them.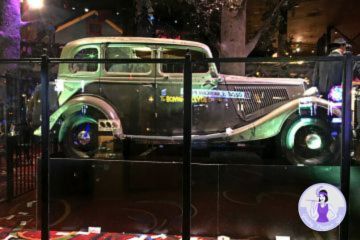 To the best of anyone's knowledge, there is only one surviving piece of paper that bears the signature of Bonnie and Clyde. It belongs to a private individual.
The infamous Christie's Auction House sold a photo of Bonnie, who had one foot on a car bumper, cigar in her mouth, and pistol in one hand that supposedly had been signed by Bonnie Parker and had a salutation of some kind.
It was quickly discovered that the signature was fake and the salutation had been added later, since there were two different types of inks on the photo.
If you should see an item selling for a pittance, that's an immediate tip-off that the item is a fake. Why sell a genuine artifact from this couple for next to nothing when a collector would be happy to pay a small fortune for it?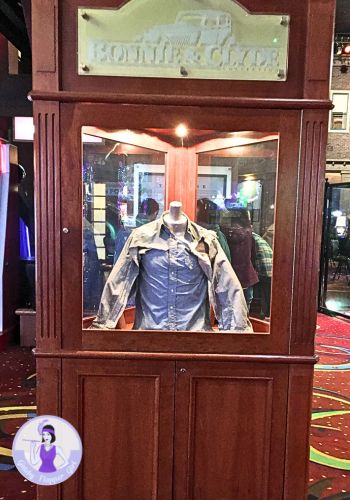 The only real death car is sitting in the lobby of a casino in Primm, Nevada, outside of Las Vegas. Clyde's bloodied and bullet-riddled shirt is also on display with the car. If you see another car or if someone claims to have the shirt, it's a forgery.
Guns seem to be the easiest thing to promote as "belonging to" the Barrow Gang. You might see them advertised as "possibly handled by Clyde Barrow."
Where Can I Find More Bonnie and Clyde Artifacts?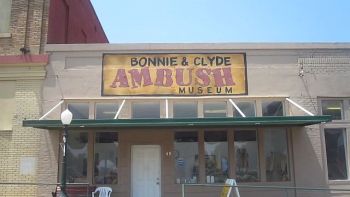 In Gibsland, Louisiana, you can find an actual Bonnie and Clyde Museum.
It features an identical car but was created for the museum ( read more on cars in the 1920s ) and is NOT the original. It has bullet holes, fake blood, and two dummies dressed like the infamous couple, covered in fake bullet holes and fake blood (obviously).
The walls of the museum are covered with newspaper clippings and photographs, including real photographs of the couple as they were laid on the tables at the morgue.
There is a marker at the location where Bonnie and Clyde met their demise. The street looks nearly the same as it did 100 years ago.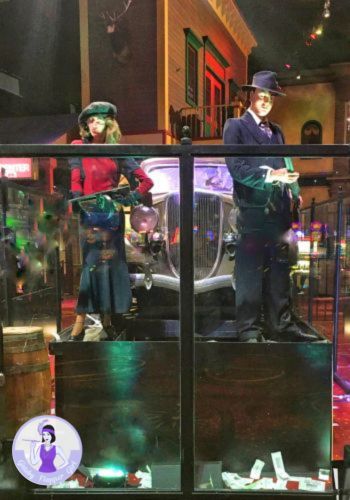 The couple's death car is located in Primm, Nevada, near the state line with California, about 40 miles outside Las Vegas.
You can also visit Bonnie Parker's grave outside of Dallas, Texas, as well as Clyde's grave. They are in two different cemeteries about 9 miles apart.
Final Thoughts
Unless you are an experienced collector, finding Bonnie and Clyde artifacts is best left to museums and those who are experienced in this area.
Interest in this couple does not appear to be cooling down anytime soon, but don't be too over-eager. People who are out to make a quick buck will only be more motivated to fleece those who are looking for a "bargain".
What you can do is enjoy the stories and photos of the couple or take a trip to see where they met their fate in Louisiana.
You can also head out to see their verified bullet-ridden car in Primm, Nevada as you take in the opulent desert charm of the place. Whatever you do, don't be taken in by con-people.
Keep safe while uncovering stories about this epic couple, and enjoy your adventure!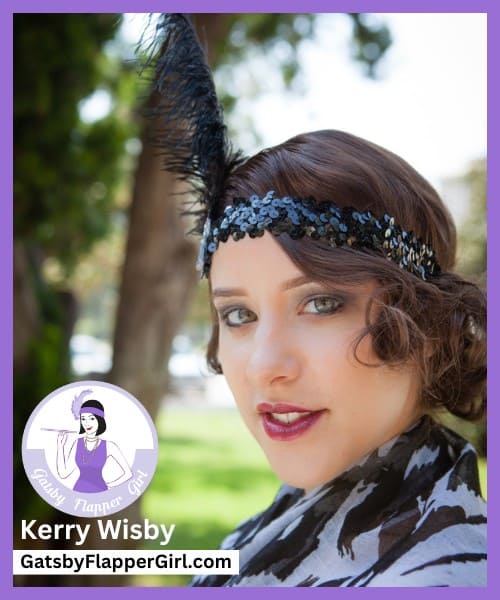 Written by Kerry Wisby – GatsbyFlapperGirl.com
Owner & Founder of GatsbyFlapperGirl.com
Kerry Wisby is the owner & founder of GatsbyFlapperGirl.com, your go-to source for all things 1920s & The Great Gatsby. With a passion for the era & a wealth of knowledge to share, Kerry is dedicated to providing you with everything you need to know about Roaring 20s fashion, 1920s history, & Great Gatsby-themed party ideas. Join Kerry in bringing the spirit of the Roaring 20s to life! Read more about Kerry here.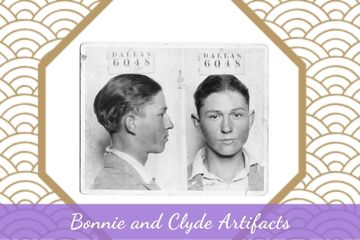 Bonnie and Clyde Artifacts - Real Deal or Fake Junks?
Bonnie and Clyde continue to fascinate millions of people today. Auctions of their supposed memorabilia come and go, but are there any true artifacts left?