The roaring 20s was an iconic decade for fashion. Before the American economy collapsed, young women – affectionately called flappers – would dress up in their best outfits and hit the dance halls. 
This is a period of American culture that has been romanticized in pop culture, with novels like The Great Gatsby capturing the zeitgeist perfectly. When you consider what the country had just been through during the Great War, it's no surprise they wanted to let their hair down!
Want to know more about these dresses and styles? Check out the rest of our article below!
What Dresses Did the Flappers Wear?
The women in the 20s wore what later became known as the flapper dress, which is a glamorous piece of clothing typically beaded and sequined. These dresses were loose and short, often in the form of slip-overs with long or short sleeves. Many women added accessories like a belt to accentuate the low waist and long pleats, collars, neckties, and pintucks, all of which exaggerated the lean look of the dress. A small bag or matching purse completed the look.
These dresses were usually worn by young, slim women, although it was not uncommon to see mature women dressed similarly. Larger women would use slimming lingerie to fit into flapper dresses comfortably.
How Do You Dress for the 1920s?
If you're looking to dress like an authentic flapper, you should wear a dress made of chiffon, silk, satin,  or crepe – anything made of light material. You can also wear a matching slip if the dress is particularly sheer. If you have the money, choose a dress with elaborate beading. However, you can jazz up plain dresses with your own sparkly items and wear it with a matching bag or fur.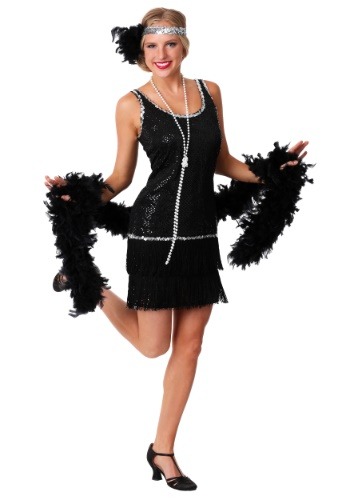 Ideally, your dress will be knee-length or even longer, but feel free to go for a shorter look if you desire. A flapper dress should always be loose. Buy a size bigger than you usually would – you don't want the dress to accentuate your curves.
What Are Cheap Roaring 20s Costumes and Flapper Dresses I Can Buy?
If you're looking to find some cheap flapper-style costumes at affordable prices, check out some of these suggestions and let us help you with your search!
Silver Plus Size Costume Flapper Dress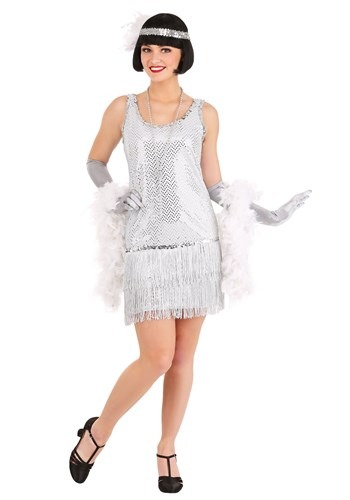 This authentic-looking dress is made from 100% polyester. The elongated bodice has a solid lining and a semi-sheer overlay adorned with sequins. The dropped-waist skirt is reminiscent of the time, thanks to two tiers of fringe over a sequined base layer. You even get accessories like a silver-sequined headband with white feathers.
Fringed Gold Flapper Costume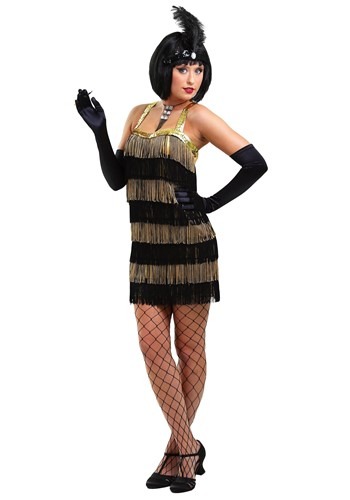 Want to look like a real flapper while doing Charleston? This black and gold costume should suit you down to the ground. The dress is made with 8 tiers of black and gold fringe and a sequin trim to highlight the neckline and shoulder straps. A smoky yet dazzling little number that comes with a headdress as well.
Black Sequin & Fringe Plus Size Flapper Costume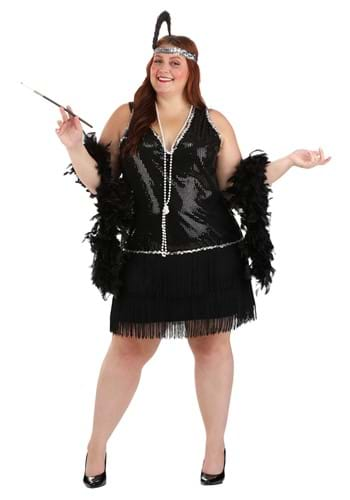 Browsing for something to stand out from the crowd? Try this totally extra flapper costume. The black and silver color scheme is beautiful, as is the dropped-waist skirt and elongated bodice.
If you prefer silver over gold, this should be your first choice flapper outfit. Unfortunately, the item does not come with the feather boa worn by the model, but the good news is it comes in many Plus Sizes!
Roaring 1920s Babe Flapper Dress
If you're looking to improve on the flapper style by making it sexy and current, this should be the dress for you. The fringe panels and straight neckline are great for showing off some skin, and the mini length is very current and sensual.
However, if you want to look more authentic, you'll need to buy a string of pearls or beads for accent and wear the dress with a pair of chunky-heeled T-strap shoes.
Women's 1920s Dress Great Gatsby Bead Sequin Fringed Cocktail Flapper Dress with Shawl
We fell in love with this flapper dress as soon as we saw it. Compared to many similar dresses, this is very high quality,  and the off-white material and embroidery are both stunning. If you want to turn heads, this is the one for you.
Great Gatsby 1920s Dress Sequin Embellished Mesh Flapper Cocktail Dresses
If you love the style of this dress, but don't like the color, do not worry –  the design is available in 4 different colors. The design is intricate yet bold and is sure to set tongues wagging when you turn up for a party.
Women's 1920s Gatsby Cocktail Sequin Beaded V-Neck Fringed Tassels Hem Flapper Dress
Why dress up like Daisy from The Great Gatsby when you could dress up like an actual flower. The unique floral design on this dress is certainly different. A must-have for somebody who wants to stand out from the crowd.
Women's Fashion 1920S Vintage Peacock Sequin Gatsby Fringed Flapper Dress
If you want to show off like a peacock, you need this peacock-style dress in your life. The teal color goes with every skin tone, and the attention to detail is simply staggering. Finish it off with some simple heeled shoes.
Anna-Kaci Women's 1920s Flapper Fringed Sequin Cocktail Party Dress
Available in pink and black, this flapper dress is all about the fringe and sequins (see more fringe flapper dresses) – as it should be! Understated and lightweight, you'll feel comfortable and stylish in this dress.
NeeMee 1920s Flapper Dress Short Sleeve Cocktail Dresses for Women
Whether you choose the black, black/gold, or burgundy version of the dress,  you'll be bringing the 1920s dress into the modern era. The tassel around the knees is a wonderful touch.
Women's Flapper Dress 1920s Gatsby Sequin Fringe Short Sleeve Cocktail Dresses
Burgundy and tassels are always going to go down a treat. When combined with the flapper style, you know this dress will always be a winner! Sexy,  elegant, and perfect for a jazzy party.
Women's 1920s Sequin Art Deco Flapper Cocktail Dress
Red is the color of passion. If you want to show off your sensuality while remaining somewhat covered up, you are going to love taking this dress for a night on the town!
Women's 1920s Gatsby Cocktail Sequin Art Deco Flapper Dresses
Black is simple, but it is never boring. This dress has all the hallmarks of authentic flapper style, and the feathered tassels at the hem scream quality. If you want to be minimalist but maintain a sense of extravagance, go for this dress.
Plus Size Women's 1920s Fringed Gatsby Sequin Beaded Dress
Get this Sexy Roaring 20s Dress!
Variety is the name of the game with this flapper dress. If you're a fan of the style but not the color, there are plenty of alternative colors available. Our favorite? The green and red!
KILOLONE Women's 1920s Retro Vintage Cocktail Dress
If you're looking for a short yet classy dress in many different colors, look no further than this beautiful item. The embroidery is high-quality, and the sequin pattern is sure to catch the eye. And there's over a dozen colors to choose from – it's incredible!
Find the Best 1920s Party Dresses for Less!
Rock the night away with these themed party dresses that won't break the bank. They're perfect additions to your wardrobe, and you won't find them any cheaper and classier than these 1920s fashion items we've listed in this article. Check out these links now or add us to your bookmarked pages for future reference.
Frequently Asked Questions
Are flapper dresses from the 20s?
Yes –  the flapper dress became truly popular in 1925. However, there have been resurgences in popularity throughout the 20th century, particularly in the late 50s, early 60s, and the 80s.
What were the 1920s dresses called?
As stated in the article, dresses for the 1920s were affectionately known as flapper dresses.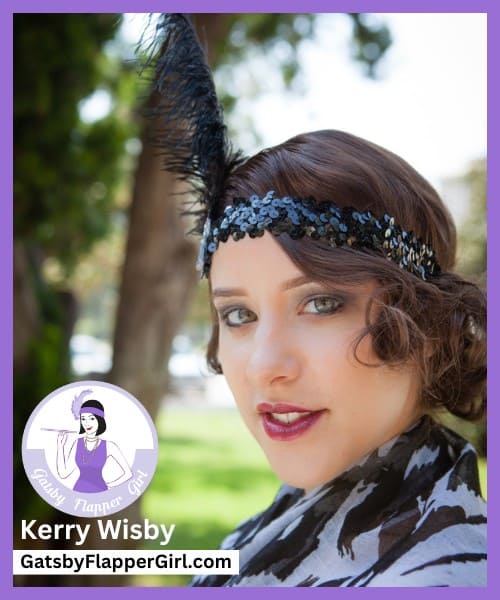 Written by Kerry Wisby – GatsbyFlapperGirl.com
Owner & Founder of GatsbyFlapperGirl.com
Kerry Wisby is the owner & founder of GatsbyFlapperGirl.com, your go-to source for all things 1920s & The Great Gatsby. With a passion for the era & a wealth of knowledge to share, Kerry is dedicated to providing you with everything you need to know about Roaring 20s fashion, 1920s history, & Great Gatsby-themed party ideas. Join Kerry in bringing the spirit of the Roaring 20s to life! Read more about Kerry here.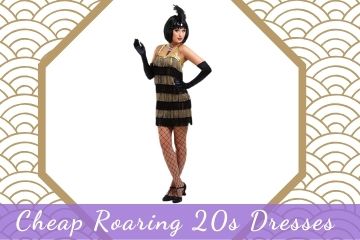 Unbelievably Cheap Roaring 20s Dresses & Flapper Costumes!
Need an outfit & don't want to spend too much? You will love these gorgeous Roaring 20s flapper dresses and costumes for your next Gatsby-themed party.