Classic Flapper Halloween Costumes Ideas
Have you ever heard people calling the roaring 20s the Golden Age? Many claim that's true for fashion, so we are starting with classic flapper costumes.
These are suitable for dancing to Charleston tunes, but also for chatting with other people at the party.
Get this Stunning 1920s Dress!
An art deco flapper costume features a combination of gold and black. It fits the 1920s theme perfectly, especially if you want to look like flappers who performed on stage.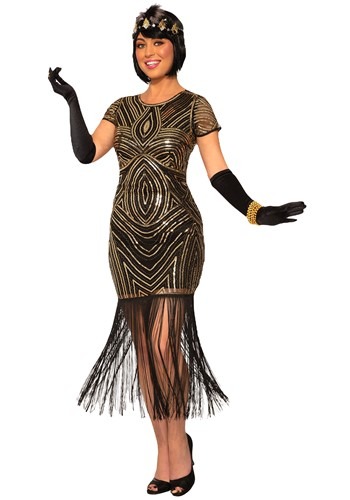 Consider Taking a Wig
You can stylize your haircut, but also consider taking a wig, you will then instantly remind everyone of an iconic flapper girl. Always remember to check the product information to see if the flapper costume comes with any accessories.
If not, these costumes are excellent to wear with headpieces or gloves, so make sure to shop for them, too.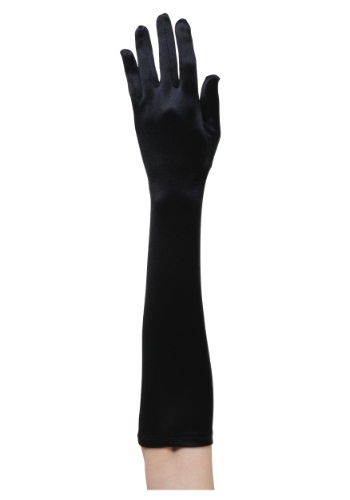 Did you know that flappers were all about the glitters? That's why you should consider fringe flapper costumes featuring unique patterns and glitters that contribute to the overall appearance.
Pick Your Suitable Style & Color
It's up to you to pick the pattern. However, if you see a mixture of black, gold, and green, make sure to go for it. The spaghetti straps will add life to the combination, especially if you plan to go on the dance floor. Most flapper costumes come in multiple sizes, so make sure to pick a suitable one for you.
What to Wear If You Are Going with a Partner?
Women love when they can match their flapper costumes with what their men are wearing. If your partner is wearing a tuxedo, you have multiple options to achieve the flapper girl appearance.
You can go for a costume inspired by the Great Gatsby and his loved Daisy Buchanan. It's the most famous movie about the roaring twenties, so you can't go wrong with those flapper girl costumes.
Get this Stunning 1920s Dress!
A beaded cocktail dress looks great on women of all ages. It's suitable for casual, but also more formal parties. If you are wondering about the color, a sequin rose gold flapper costume is the right balance between the vintage and modern style.
Alternatively, you can look for glam flapper costumes in champagne shades.
These are simple and fun outfits that encourage dance moves, but also give that appearance of women who came with partners or family. If you want to add to the sleeveless combination, consider accessories like a jacket or black gloves.
How to Find the Right Flapper Costume for a Formal Event
The beautiful thing about the 1920s parties is that they can be both casual and formal. If you receive an invitation for the latter, you want to look for flapper girl costumes that look elegant and luxurious.
Those women who prefer a flapper costume than a classy dress can consider a rich girl outfit.
Get this Sexy Roaring 20s Dress!
The scoop neckline with unique fringe sleeve design gives this flapper dress a provocative, but classy appearance. The sequin bodice adds to overall elegance, and the zipper closure is convenient. if you want to look luxurious, don't go for standard flapper costume shades. Instead, pick purple or a similar daring variation – it's perfect if you want all eyes to look at you at the party.
A Long and Elegant Dress Is Always in Fashion
Even if the party's not that formal, many girls love an elegant dress. The good news is it can serve as your flapper costume for the upcoming event. You want to get all the details right. That's why your costumes should feature a pattern that reminds of the roaring 20s era.
A dress with sequins that has a mermaid style and follows your curves can be the jackpot. Make sure to combine it with a pearl necklace, black gloves, and other accessories for extra elegance.
The 1920s era is famous for flapper costumes and a fashion style that was more revealing than before. Girls wanted to pinpoint their right to a freedom of choice when it comes to how they'll dress. That's why there were no rules when it comes to cleavage depth. If you like cleavages, you shouldn't hesitate to go with a suitable combination.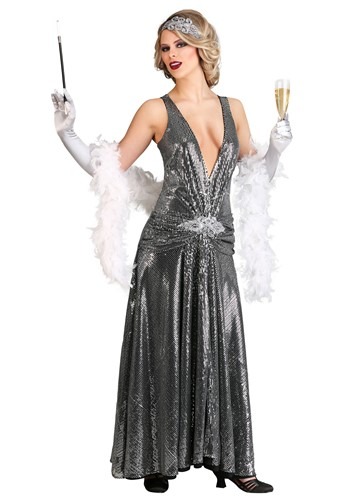 Dazzle With Sequins & Fringes!
You can pick between different colors for your flapper girl costumes. However, you can't go wrong with silver, especially if it's a special occasion like Halloween or New Year's. The sleeveless fringe costumes with a sequin design will dazzle all men, and the elegance will ensure you impress women at the party, too. You'll add the glam that the soiree required and combine today's fashion with the roaring 20s era.
If you prefer an elegant flapper costume, how about going with a fringe beaded dress with a set of accessories?
The main advantage is that you get all you need with the actual costume. You can mix and match accessories from a cigarette holder to vintage earrings and a feather headpiece. The selection of shades will satisfy the expectations of most women, and our choices include silver or the black-gold variation.
Adult Flapper Costumes
Would you like to have some fun at the upcoming gathering? Do you need ideas for adult flapper costumes? For all those girls who aren't shy, we are moving on to a selection of foxy flapper girl costumes for a 1920s-themed occasion.
These are perfect for a costume party at your campus or a similar occasion that requires Halloween costumes. It's worth noting that those parties aren't for kids, but they guarantee maximum fun for adult men and women.
If you want to stay in line with flapper costumes, you can with a provocative silver dress.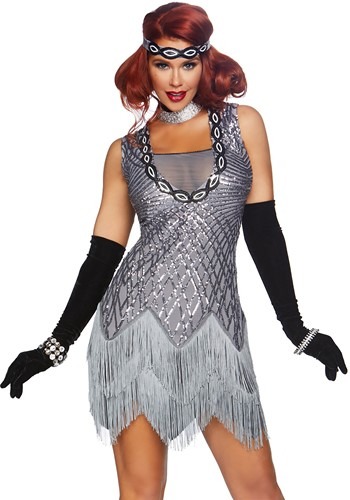 The cris-crossed sequined flapper costume is ideal for dancing to jazz and Charleston songs. Nobody will stay immune once you shake your hips.
1920s Gangster Girl Style
You can also go for an appearance that makes you seem like a true gangster girl. The foxy flapper costumes with gold spaghetti straps will ensure you are the hottest women at the occasion. If you feel like heading into the full gangster mode, you can always replace the cigarette holder with a toy gun or fake money bag accessories.
Those women who feel particularly daring can go for flapper girl costumes that remind of bedroom outfits. For example, how about taking the fun to the next level and choosing a flapper dress with a nude lining and sequin appliques?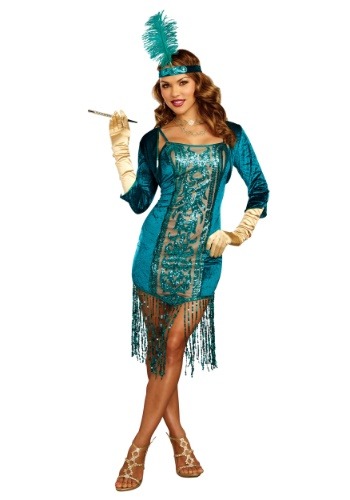 These fringe dresses are surprisingly comfortable and they'll ensure you spice up the Halloween experience for everyone attending the event.
Keep It Short, Simple, and Sexy
When it comes to flapper Halloween costumes, you don't have to overcomplicate things. A simple single-color combination can be a better choice than most other options available.
If you are out of ideas, how about going with simplicity? Pick a short flapper costume that only true babes would wear.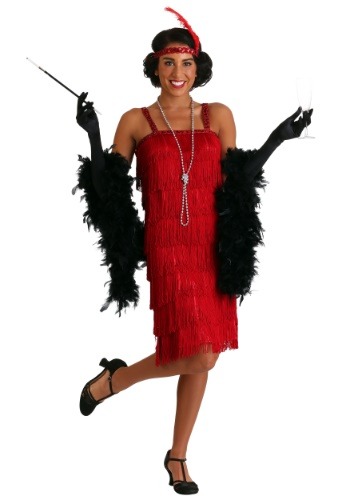 A straight neckline combined with spaghetti straps will ensure you are ready to jazz up the scene. There's nothing better than when your outfit doesn't get in the way when you are dancing.
That is why a foxy flapper costume is among the top choices you can make when picking an outfit. The gold details and the spaghetti straps will show off your body. The other guests won't be able to help themselves – all the eyes will be pointed at you and you'll be the number one at the occasion.
Find a Perfect Women's Plus Size Swanky Flapper Costume
If you have a couple of extra pounds, that's not something to worry about when choosing a flapper costume. The good news is flapper dresses are available in various sizes, and most women shouldn't have problems finding the one that suits perfectly.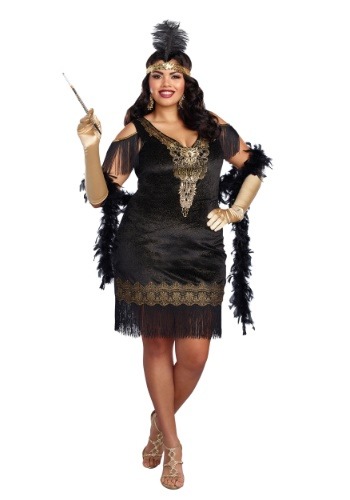 A wavy pattern can be a smart choice for a plus size flapper costume. You'll blend it with the fashion of the 1920s, and there'll be no questions you fit the era.
But we are not stopping here because we want to offer more tips in helping to find a plus size flapper costume. A swanky costume is a perfect choice for speakeasies.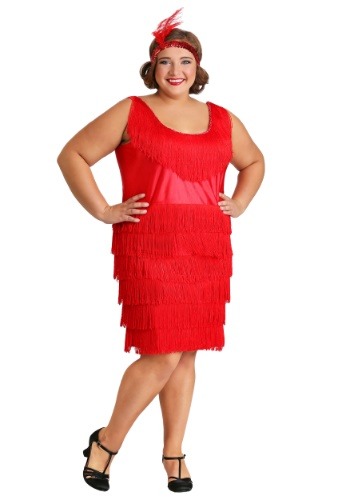 A flapper girl was often accompanying gangsters of the era. If you don't mind experimenting with your flapper costumes, how about a crystal costume?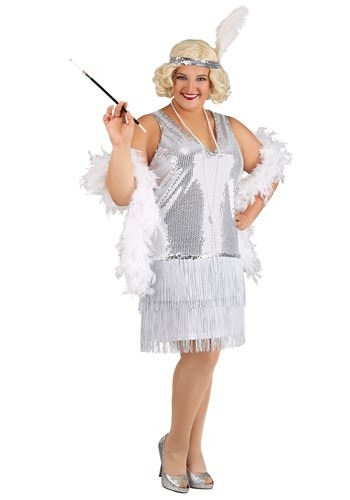 Get the 20s Plus Size Flapper Outfit!
If you want to be the one in the center of attention at the event, you shouldn't hesitate to go with daring flapper costumes. The spaghetti straps will ensure you feel comfortable and look like you are ready to perform on stage at any moment.  Plus the drop waist flapper dress style is always very flattering for any figure and very comfortable to wear.
Our Round-Up on Roaring 20s Flapper Outfits
That rounds up our list of flapper costumes. As you can see, we covered most categories that range from adult to family costumes suitable for events where you take your kids.
And if you are looking for kids outfits, be sure to click on the links below for some great ideas:
Our advice is to check the size chart carefully and pick the one that suits you. Additionally, the costume should feature 1920s fashion details, but also fit your taste.
Women often have specific tastes, but we hope our selection of fringe flapper costumes in various sizes is sufficient to find the favorite one.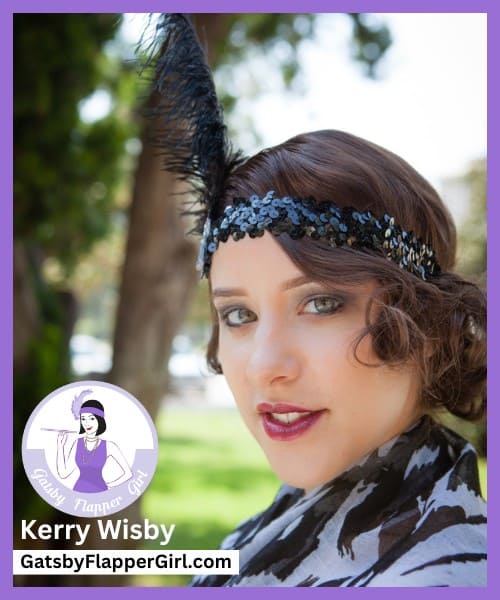 Written by Kerry Wisby – GatsbyFlapperGirl.com
Owner & Founder of GatsbyFlapperGirl.com
Kerry Wisby is the owner & founder of GatsbyFlapperGirl.com, your go-to source for all things 1920s & The Great Gatsby. With a passion for the era & a wealth of knowledge to share, Kerry is dedicated to providing you with everything you need to know about Roaring 20s fashion, 1920s history, & Great Gatsby-themed party ideas. Join Kerry in bringing the spirit of the Roaring 20s to life! Read more about Kerry here.
1920s Flapper Girl Costumes, Outfits & Dress Styles
1920s parties are the perfect time to wear stunning flapper girl costumes or outfits. You will love all our gorgeous 1920s dress styles guaranteed to turn heads!