It's been nearly 100 years since Bonnie and Clyde roamed the roads across America, but our fascination with them continues.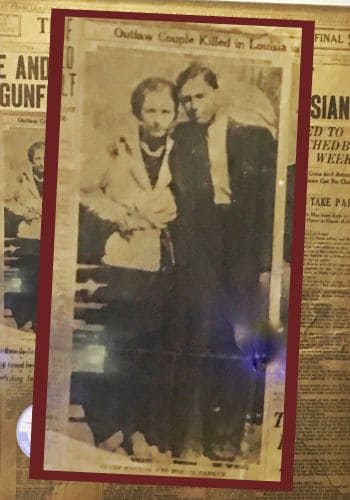 Bonnie and Clyde met their end on May 23, 1934, near the small town of Gibsland, Louisiana, when former Texas Rangers riddled their bodies and car with hundreds of rounds.
It's what happened afterward that is truly shocking and not nearly as well known as their escapades and robberies.
After the smoke cleared, and the posse took what they wanted from the vehicle, what happened to Bonnie and Clyde?
What Happened After Bonnie and Clyde Were Killed?
Bonnie Parker and Clyde Barrow were quite famous in their time. While many fake stories about them (such as Bonnie and Clyde giving to the poor) circulated in the newspapers, this pair of outlaws became front-page news during the Great Depression.
After being betrayed by the father of a friend, the pair was finally shot to death.
Word quickly spread that the couple had been killed only minutes after ordering sandwiches to-go from a small café in Bienville Parish, Louisiana. Townspeople rushed to the scene as the car was being towed with Bonnie and Clyde's bodies still inside the vehicle.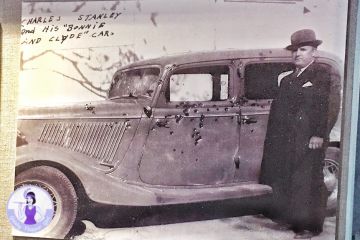 More than just a look, people wanted some type of souvenir. Someone grabbed Bonnie's red hat off her head. Someone else cut off part of Clyde's ear.
The bodies were taken to a local funeral home, operated on in the back of a furniture store in nearby Arcadia, Louisiana.
It's ironic to note that the undertaker Dillard Darby and his assistant Sophia Stone had been kidnapped by Bonnie and Clyde earlier. Bonnie laughed when she found out what Darby did for a living and said that, who knows, one day, Darby might work on them!
Darby indeed embalmed their bodies, although not without some difficulty. The bodies had so many bullet holes in them that the embalming fluid kept leaking out.
The families were notified, and the Barrow family sent an ambulance to deliver Clyde's body to the authorities, who released it to the family.
Clyde's father (Henry Barrow) and Clyde's brother (Jack Barrow) had Clyde's remains sent to the Sparkman-Holtz-Brand Funeral Home in West Dallas.
Bonnie's body was sent to the McKamy-Campbell Funeral Home in South Dallas.
Did Bonnie and Clyde Have an Open Casket Funeral?
Yes, Bonnie and Clyde had an open-casket funeral.
Both funeral parlor employees are to be commended for somehow making the bodies look presentable enough so that they could have open-casket funerals.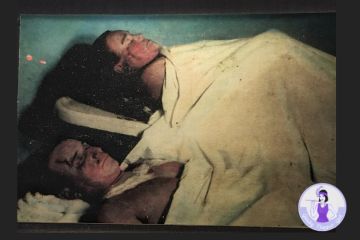 An undertaker's note stated that Bonnie had been wearing an expensive outfit when she was killed, but it was so torn up that it could not be used. For some reason, Bonnie Parker was wearing an ice-blue negligee and was put in a steel coffin.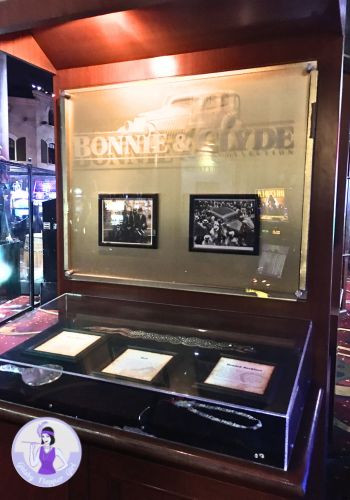 The Dallas Funeral Homes prepared the bodies of Bonnie and Clyde for public viewing.
Clyde Barrow didn't get nearly the amount of attention that Bonnie did, due to the fact that in the 1930s, women were not as likely as men to be brazen criminals.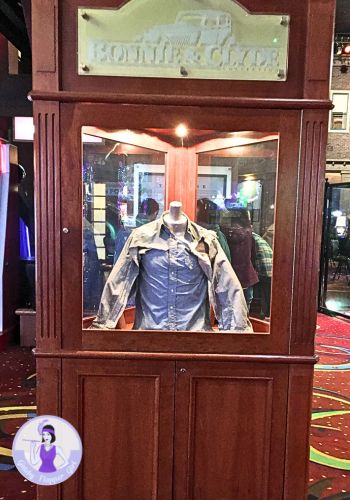 We know that Clyde was dressed in a suit, but that's all the information we have on his attire.
Why Were Bonnie and Clyde Not Buried Together?
It was Bonnie's mother, Emma Krause Parker, who prevented this from happening.
Emma had never liked Clyde and thought of him as having a bad influence over her daughter. Clyde's family had asked if she would like a double funeral and told her that there was room next to Clyde for Bonnie's body, but she wouldn't hear of it.
"I have said that I will not permit Bonnie and Clyde to be buried together", Emma said, "He had her for two years, and look what he did to her."
Clyde was buried next to his brother Buck. To this day, there is an empty spot next to Clyde's grave for Bonnie, if somehow, someday, her body can be moved.
How Many People Showed Up to Bonnie and Clyde's Funeral?
Far more people lined up to see Bonnie Parker than for Clyde Barrow, although Clyde also had a good following.
Clyde is buried in Western Heights Cemetery in Dallas, next to his brother Marvin Ivan (Buck). It's estimated that 30,000 people came to see his body at the Sparkman-Holtz Brand funeral parlor and/or attended the funeral.
Bonnie was buried in northwest Dallas at Crown Hill Memorial Park. It's estimated that 40,000 to 50,000 people lined up to see her body. In fact, so many people attended the funeral that the family had trouble reaching the gravesite.
Rev. Andrews and funeral director Allen Campbell led Bonnie's funeral.
Emma Krause Parker attended Clyde's funeral but said nothing. The same is true of Clyde's parents, who stood next to Bonnie's mother, but the families did not appear to speak to one another.
Bonnie also received a great many flowers from admirers, including flowers sent from John Dillinger and Pretty Boy Floyd, as well as from Dallas newspapers.
Clyde's funeral included a visit from a famous comedian at the time, Bert Wheeler, who took the time to sign autographs.
What Is Preventing Bonnie and Clyde from Being Buried Together?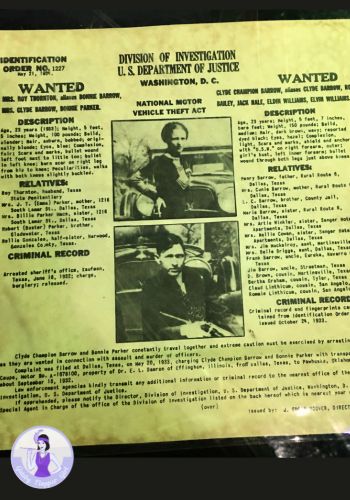 It seems as though the only thing stopping this from happening is money.
Bonnie Parker's surviving family would like to see Bonnie's remains moved next to Clyde, but the process costs money that the family doesn't have.
The same is true with Clyde Barrow's family. They have always considered Bonnie to be family and have kept one site free for Bonnie's coffin.
What is stopping this move? The cemetery says that to move Bonnie, the relatives need a court order. Then, there's the cost of exhuming the coffin, moving it about 9 miles to where Clyde is buried, then digging the spot next to Clyde and reburying the coffin. Not to mention the price of a new headstone, unless the family wants the old one reused.
The family members had hoped that some production company would be interested in making a documentary about the move and funding it, but so far that hasn't materialized.
Bonnie and Clyde are a part of Texas history and, to be honest, a part of American history, so it makes sense that these two should be buried together since they were inseparable in life.
The Parker family is down to two surviving members, and neither have children. If they should pass away before Bonnie is moved, chances are that this might never happen since the permission of the family would be required for her body to be moved.
Let's hope someone sees the value in doing this and has the funds to make it happen.
When Was Bonnie Parker's Funeral?
Bonnie Parker's funeral was held on Saturday, May 26th, 1934, just three days after she was shot to death.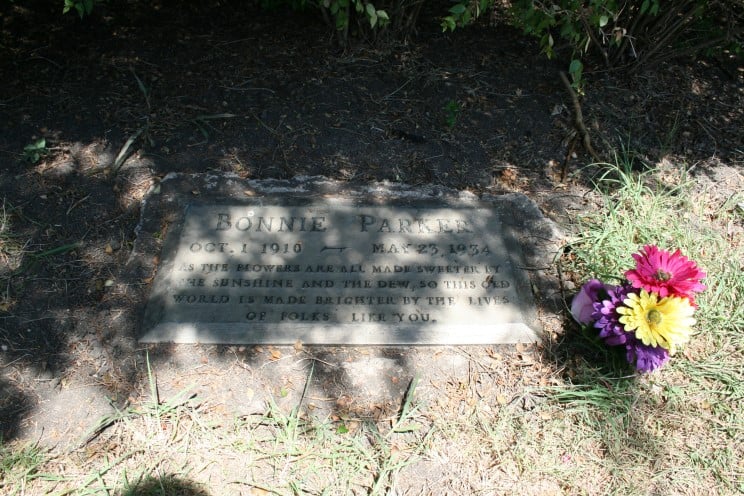 She was buried the following day at what was then called the Fish Trap Cemetery (now called La Reunion Cemetery) in West Dallas.
In 1945, her remains were moved to Crown Hill Memorial Park in northwest Dallas off Webb Chapel Road.
Although no reason was given, it's assumed that Bonnie's body was moved so that she could be laid to rest next to her mother, who died in 1945 and was buried at Crown Hill.
Why Emma Krause Parker was not buried next to Bonnie in Fish Trap Cemetery is not known.
When Was Clyde Barrow's Funeral?
Clyde's funeral was held one day before Bonnie's on Friday, May 25th, 1934.
The Barrow family had the commonsense to make pre-arrangements for family members so that they could stay together, even in death.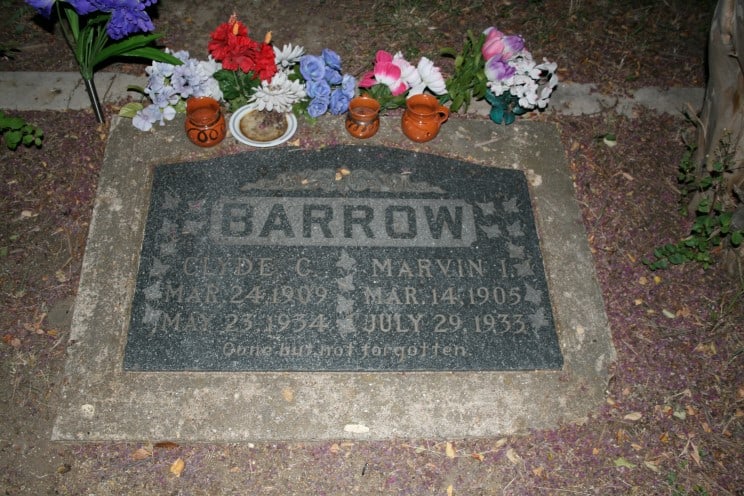 Cumie Barrow purchased grave sites so that Buck, Clyde, and even Bonnie could be buried together.
Clyde's mother Cumie passed away in 1943, and his father, Henry, passed away in 1957. Both are buried in the family plot in Western Heights Cemetery.
The Barrow family has kept up the graves over the years, and for nearly 100 years, they have left one spot open for Bonnie so that she can be buried next to Clyde.
It's said that a tree had started to grow over the spot next to Clyde, and someone in the Barrow family cut the tree down and dug up the roots to keep that space free for Bonnie.
Is There Still Blood on Bonnie and Clyde's Death Car?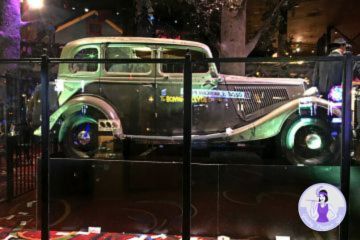 Yes, there is still blood on Bonnie and Clyde's death car, although it has faded over time.
It is amazing that the car is intact and barely touched by the hand of time, especially considering that the vehicle was first sent on "tour" to various amusement parks and circuses. In the 1970s, it was located at a Nevada race track, where people were allowed to sit in the car and take photos for a dollar.
At the time of this writing, the infamous "death car", a 1934 Ford V8, is located in the lobby of a casino near the state line of California and Nevada.
There are a trio of casinos in this location, and the car was moved from one casino to another over the years. Currently, Bonnie and Clyde's car is now located at the Primm Valley Resort and Casino.
The car's paint has faded, as well as the blood stains, despite being placed inside a glass enclosure and being indoors in an air-conditioned building.
There are a pair of mannequins depicting the couple, along with Clyde's bloodstained shirt, signed by his sister as being authentic.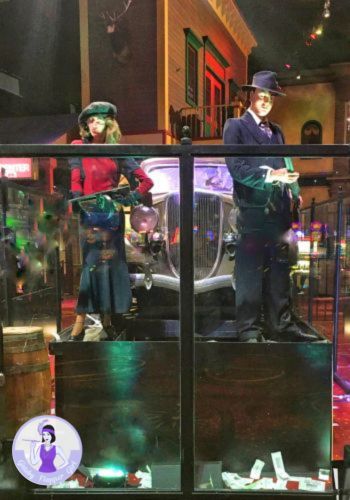 There are 112 police bullets in the vehicle itself, with more lodged in the bodies of this notorious duo.
Parked next to Bonnie and Clyde's car is a second bullet-scarred car on display. This vehicle belonged to gangster Dutch Schultz. He filled the doors with lead, so the bullets merely dented its exterior.
Since it isn't a "death car" (Schultz was assassinated in a bathroom), it doesn't have the mesmerizing power of Bonnie and Clyde's bloodstained, bullet-ripped vehicle.
How Much Did the Car Last Sell for and What Is It Worth Today?
Whiskey Pete's Casino, part of the chain of casinos belonging to the Primm Group, purchased the vehicle in 1988 for $250,000.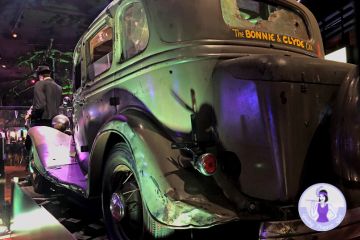 What the car's value is today is anyone's guess. Memorabilia is only worth what someone is willing to pay for it.
It's unknown if anyone is interested in buying the car since it's been on display for many years at no cost. However, collectors are known to spend millions in search of their collectibles.
Can You Visit Bonnie or Clyde's Gravesites?
Yes, you can visit the graves of Bonnie and Clyde.
While Clyde's grave is now surrounded by expensive homes, the immediate area surrounding the cemetery is rundown, as is the cemetery itself.
You can easily find Clyde's headstone, and between Clyde's and his mother's headstones is the empty spot reserved for Bonnie's remains.
Bonnie lies just 9 miles away, but the cemetery is in better condition. There are fresh flowers and gifts frequently left on Bonnie's grave marker.
The End of the Line
Bonnie Parker and Clyde's mother, Cumie, had a glimpse of the future, it seems.
Cumie Barrow purchased grave plots in advance so that family members could be buried together. While none of the graves are marked "The Barrow Gang", it's clear that these are the family members that made up the Barrow gang at one time.
Cumie bought these plots when Bonnie and Clyde were still alive and on the run, so she must have had some idea that this would not end well.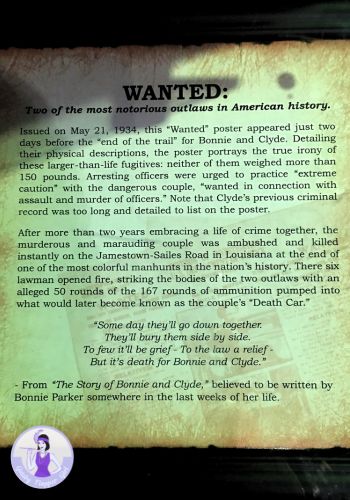 Bonnie also wrote a poem that reads in part:
"They don't think they're too tough or desperate,
They know that the law always wins;
They've been shot at before,
But they do not ignore
That death is the wages of sin.

Some day they'll go down together;
And they'll bury them side by side;
To few it'll be grief
To the law a relief
But it's death for Bonnie and Clyde."
No one lives forever unless we are speaking about people who will live forever in memory, such as Bonnie and Clyde.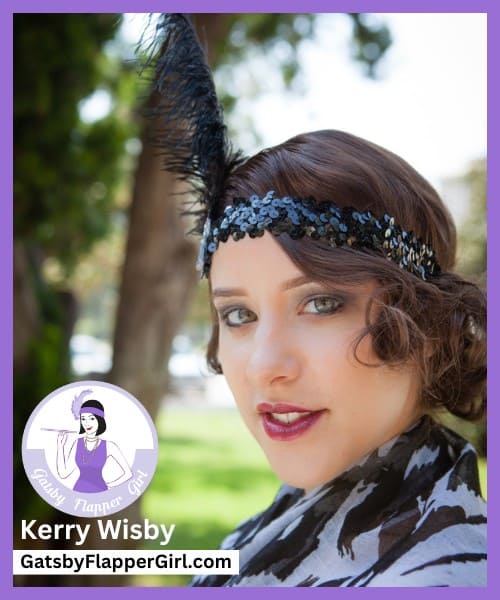 Written by Kerry Wisby – GatsbyFlapperGirl.com
Owner & Founder of GatsbyFlapperGirl.com
Kerry Wisby is the owner & founder of GatsbyFlapperGirl.com, your go-to source for all things 1920s & The Great Gatsby. With a passion for the era & a wealth of knowledge to share, Kerry is dedicated to providing you with everything you need to know about Roaring 20s fashion, 1920s history, & Great Gatsby-themed party ideas. Join Kerry in bringing the spirit of the Roaring 20s to life! Read more about Kerry here.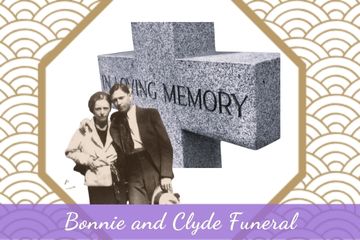 Bonnie and Clyde Funeral: The Last Ride for the Notorious Duo
Bonnie and Clyde's funerals were more like celebrity events than the end of a crime spree. Find out all the details about Bonnie and Clyde's tragic end here.