Everyone loves a costume or themed event! This can turn an ordinary party into the experience of a lifetime with memories you will never forget!
If you are thinking about wearing something a bit different from the usual flapper dress, you might want to go the Daisy Buchanan look!
Get this Gorgeous Fringed Dress!
The rich really knew how to put on the ritz, and even the gentlemen of the times knew that the key to looking dapper was accessories!
Let's talk about what the rich would wear to a party in the times of prohibition and how you can get that perfect dress for your next event.
What Did Upper-Class Women Wear in the 1920s?
One of the best things to remember about the Jazz Age is that women, whether rich or poor, wanted to get loose!
Yes, morals were a bit looser, with women going out without a chaperone, drinking and smoking, and when it came to clothing, loose was also the fashion.
Even rich women wanted to dance the night away, and who could dance the Lindy Hop or the Charleston in a tight dress?
Think loose by choosing dresses that have a dropped waist and fall just below the knee, such as this look.
Get this 20's Cocktail Dress!
Side and front slits are fine, as long as they stop at the knee. Women were showing more skin than ever before, but that didn't mean they wanted to look trashy.
For upper class women, elegance was the name of the game. Think about that infamous movie Titanic and you'll get the idea of what upper class women wore. This dress is a good example.
Get this Elegant Mermaid Dress!
Notice how it skims the body but leaves the legs free for kicking up your heels? How much fun would this dress be?!
Another example of this type of dress is this gorgeous mermaid dress.
Get this Sequin Mermaid Dress!
Sequins, beads, and glitter were in the height of fashion during the 1920s. Young women were looking to show off their figures and bare more skin than their grandmothers or even their mothers ever dreamed of!
Evening dresses were also worn for formal occasions, such as weddings, dinner parties, concerts, or the opera.
Think of Great Garbo or Mae West and you'll have the perfect idea of how wealthy women dressed in this era. We love the fringed sleeves on this dress, which shows off the arms but has a hint of modesty.
Get this Tiered Fringe Dress!
If you've got glamour on your mind, who wouldn't think of old time movie stars when you wear this number.
Get this 1920's Cocktail Dress!
This is drop-dead gorgeous, wouldn't you agree?
Younger women might be able to get away with slightly more "risque" fashion, such as this fringed dress.
Get this Gorgeous Fringed Dress!
The fringed neck and hemline are perfectly modest as long as no active dancing happens that night!
You'll notice that upper-class women had no problem showing their arms and bust but preferred to cover their legs.
Get this Floral Sequin Dress!
We love how this dress doesn't have a dropped waist, but you barely notice due to all the glittery golden layers the skirt has. Talk about a show-stopper! This dress is sure to make you the talk of the party.
Keep old-time Hollywood movie stars in mind when choosing a formal dress, and you can't go wrong!
What Did Upper-Class Men Wear in the 1920s?
Men didn't have nearly as many choices when it came to clothing styles. Unless you were a laborer (think construction worker, plumber, or bricklayer), an upper class man would wear a three piece suit.
You can make just about any three piece suit a 1920s replica by adding a few details. First, a wool suit such as this one
Get this Retro Tweed Herringbone Suit!
paired with a round collared shirt, such as this
Get this 1920's White Cotton Shirt!
and you are already ahead of the crowd.
Pin striped suits were also fashionable,
Get this Gatsby Men Pinstripe Suit!
but it was the details that made the man, so to speak.
A well-dressed, upscale man would always wear a collar pin. These were placed under the tie and designed to hold the upper collar tightly together. Although these were somewhat visible, they gave a very distinct look to the suit that you haven't seen again since the 1930s.
Get this Classic Tie Clips!
If you didn't want to wear a regular tie, go for the suspenders and bow tie. This look never really goes out of style for gentlemen, and they were every bit as popular during the Jazz Age as they are right now.
Get this 20's Suspender and Bow Tie Set!
Ties, suspenders, and a matching kerchief could be worn in just about any pattern if the suit is plain and the shirt is white or if the shirt matched the suit (both dark blue, for example).
Oh yes, we can't go on without talking about the kerchief in the pocket and the pocket watch! Since wrist watches had yet to be invented, many upper class men would wear a gold watch with a chain that went across the waist and attached to the pocket on the other side of the vest.
Get this Vintage Pocket Watch!
If you wear a pocket square, be sure that it matches the tie. For example, a well-heeled man might wear a navy blue suit, a white shirt, then a lighter blue tie and kerchief square. Ties in patterns were quite common when the suit and shirt were plain.
Get this Classic Cufflinks and Necktie!
This added some texture and interest in the suit. Not only that, but men could wear the same suit to work every day but have it appear to be different simply by changing the tie and pocket square.
Last, but not least, are the shoes and a hat.
It seems like no well dressed man would leave the house without a hat. Depending on the event, you might opt for a straw hat- we love this complete matching set!
Get this Gatsby Straw Hat Set!
Or you might go for a derby
or a hat that was commonly called a boater (Nick Carraway in the 2013 Great Gatsby frequently wore a boater)
Get this Vintage Vest Set!
Many gangsters favored derbies or the Panama Fedora hat, with a lining that would match their tie.
Working men wore boots just about everywhere, but a wealthy man of taste was more about oxfords or even two-toned oxfords and capped oxfords.
Capped oxfords were very fashionable and could be worn to the office or a wedding,
Get this Classic Style Shoes!
but two toned shoes were the ultimate fashion statement.
Get this 20's Two Tone Shoes!
Sometimes called wingtips, these shoes told the world that you were a man of importance!
When it comes to dressing like the 1920s, it's all about the accessories whether you are male or female!
Accessories for the Well-Heeled Woman in the 1920s
A wealthy woman in the 1920s knew that anyone could buy and wear a dress, but not everyone knew how to accessorize it right and make it work for them.
Hats, fascinators, hatinators, cigarette holders, and sparkly purses and shawls were all popular during the prohibition era.
It seems as though no one would leave the house for any event without wearing a hat. You could opt for the simple cloche or bucket hat
or you could go a bit more elaborate by wearing what is known as a hatinator
Get this Roaring 20's Fascinator Hat!
Can't you just see yourself wearing this big beautiful hat? This never goes out of style!
Fascinators were often pinned or clipped to the hair and were meant as a fashion item, rather than a functional hat, but what fun these are! Take a look at this beautiful fascinator.
Get this Vintage Style Fascinator!
You can wear it with or without the modesty veil!
Or perhaps this is more your style.
No matter what style suits you best, you will look the part of the upscale woman when you wear one of these!
Both for modesty and to keep warm, a shawl, feather boa, or wrap would be the crowning touch. Fur wraps simply scream money, and while the 1920s woman wore real fur, these faux fur vintage-inspired pieces are just what today's woman wants.
We love this wrap in Burly Brown because it looks just like fox fur.
Get this Luxurious Fur Shawl!
It also comes in white and black for those who want those colors.
When its too warm for a fur wrap, an embroidered shawl would be something that a well-dressed woman would wear to almost any event.
Get this Embroidered Sequin Shawl!
This looks so delicate and elegant you might be mistaken for a Hollywood star.
Heavily beaded and sequined shawls were all the rage, so add this gorgeous shawl to your outfit, and you will be wearing the height of fashion.
Get this Beaded Flapper Shawl!
Shoes for Every Occasion
Regardless of the era, every woman knows that the right shoes can make or break your outfit. Imagine a movie star accepting an Oscar wearing plastic flip-flops?!
For most events, you will find that t-strap, low-heeled (no more than 1-1.5 inches) were the fashion norm.
Although two-toned shoes were not as popular with women as they were with men, these strappy sandals will get you the attention you want!
Get this T-Strap Two Toned Shoes!
For everyday wear, Mary Janes with a classic round toe were the standard shoe of the times.
Get this Classic Round Toe Shoes!
We have to mention these sweet little Latin-inspired dancing shoes that should match just about every Great Gatsby dress.
Get this 1920's Flapper Shoes!
We can't think of a more perfect shoe for a 1920s-inspired party.
Other Accessories
You can the entire look by adding some of the most popular fashion items from the Great Gatsby era, such as jewelry, hand bags, gloves, and fans.
We really like the convenience of pre-made, matching sets of accessories, such as this
Get this Retro Accessories Set!
that have almost everything one could want other than shoes and a scarf.
If you need a purse, remember that in the 1920s, all that glitters is definitely what a rich woman would want. Consider this darling little heart shaped bag
Get this 20's Heart Shape Tassel Clutch!
or perhaps this is something a bit more classic is what you had in mind.
Get this Beaded Pearl Clutch!
Gloves could be worn almost any time of the day or night, and they didn't need to match your dress. Simple elbow-length gloves
Get this Long Satin Flapper Gloves!
or more delicate lace gloves were all popular during this decade.
Get this Finger Loop Lace Gloves!
Did you think fans were something from the 1970s? Not at all! Fans were common as wealthy women used them not only to shield their faces from the sun, but to shield themselves from prying eyes.
We love the styles from the 1920s, when feathered fans could be carried,
Get this Vintage Feather Bouquet Fan!
or if you were outdoors, a lacey parasol would offer you some protection from the sun.
Get this 1920's Lace Umbrella Parasol!
Think feminine, delicate, beaded, sequined, and classy, and you are sure to find the perfect accessory to make your own Great Gatsby fashion statement.
What Is the Great Gatsby Fashion?
If you've been invited to a Great Gatsby party or a Roaring Twenties-themed event, you are in luck! These are some of the most fun costume parties ever!
If you haven't watched the 2013 movie version of The Great Gatsby, starring Leonardo DiCaprio ( click here for Leonardo Dicaprio Great Gatsby Outfits )and Tobey McGuire, you should watch this movie before picking your outfit.
If you've seen the movie, then you get to choose which character you would most like to imitate.
Daisy Buchanan is a rich married woman who is in love with Jay Gatsby. She dresses in the fashion of her day, but always with class and modesty. A dress similar to this would remind one of Daisy.
Get this Lovely Sequin Evening Dress!
You could opt to go with the Jordan Baker look. She's the golf pro who loves the stylish clothes of the flapper era. Take on her character and aura with flapper costumes like this.
Get this Tassel Hem Peacock Dress!
There's also Tom Buchanan's mistress, Myrtle Wilson. She's a flapper girl ( see more flapper girl costumes here )minus the money that Jordan Baker has, and she would wear something like this.
Get this Roaring 20's Sequin Dress!
Maybe you would prefer to go with the showgirl look. There are a great many showgirls and dancers in the movie version to help give you ideas, but this would be an excellent choice.
Get this Sleeveless Flapper Dress!
For your man, you could opt for any number of characters.
Jay Gatsby is the rich bootlegger who loves Daisy Buchanan. Gatsby is perhaps best known for his pink suit, like this one.
Get this Great Gatsby Suit!
Or you could dress the part of Daisy's husband, Tom Buchanan, who is the rich arrogant villain in this novel.
Get this Elegant Pinstripe Suit!
The narrator is Nick Carraway, a nice guy who always dresses properly,
Get this Classic Tweed Men's Suit!
including his straw hat.
Get this Gatsby Straw Hat!
Last, but not least, is George Wilson. He's an auto mechanic so he looks a bit scruffy, but this can be fun when you're with the right group. Wear some tweed pants with a dirty rag in the back pocket, along with these items,
Get this Great Gatsby Accessories Set!
and you'll still be a hit at any Great Gatsby party.
P.S. A fake gun in your pocket would be good to pull out if you see a Jay Gatsby at this party since George kills Jay in the story.
Great Gatsby events and Roaring Twenties parties continue to be popular because they are fun and filled with interesting characters who really knew how to party!
Final Thoughts
While even rich women would wear everyday dresses at home or in the garden,
Get this Red V-Neck Flapper Dress!
they still managed to look beautifully feminine.
Even tea dresses, commonly worn when shopping, can be worn to a costume party or Great Gatsby party.
Get this Roaring 20's Style Dress!
This type of vintage dress never goes out of style.
Don't forget your bucket hat and you will be a smash no matter what type of 1920s party you plan on attending.
Get this Flapper Style Bucket Hat!
Get the compliments you deserve by following the tips in this fashion guide for wealthy women of the 1920s.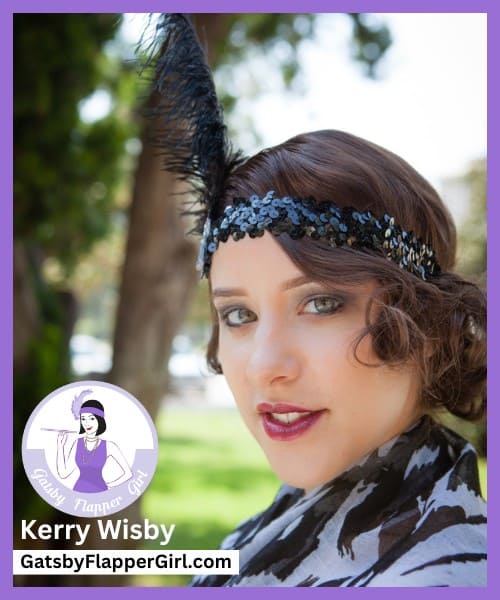 Written by Kerry Wisby – GatsbyFlapperGirl.com
Owner & Founder of GatsbyFlapperGirl.com
Kerry Wisby is the owner & founder of GatsbyFlapperGirl.com, your go-to source for all things 1920s & The Great Gatsby. With a passion for the era & a wealth of knowledge to share, Kerry is dedicated to providing you with everything you need to know about Roaring 20s fashion, 1920s history, & Great Gatsby-themed party ideas. Join Kerry in bringing the spirit of the Roaring 20s to life! Read more about Kerry here.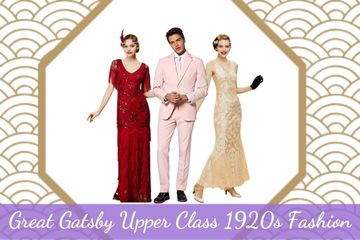 Great Gatsby Upper Class 1920s Fashion: The Ultimate Guide for Men & Women
Got plans for a Great Gatsby party? Wondering what you and your man should wear? Find the perfect outfit in this guide on how to dress like the rich from the 1920s