Stunning 1920s Dresses with Sleeves
Do you need a long sleeve Gatsby dress inspired by the roaring 20s? If you want to look and feel like a true flapper but also appear elegant, it's crucial to choose your dress carefully.
The good news is you don't have to leave the comfort of your home to pick a dress with sleeves. You can shop for the desired dresses online, and we present some top suggestions to look impressive at the upcoming party!
Floor-length Roaring 20s Dress with Sleeves
If you watched roaring 20s movies, you probably saw short flapper dresses. However, those were worn by performers and girls who didn't mind the length. You could also see women wearing a sequin flapper dress with sleeves and the length that goes all the way to the floor.
It's possible to experiment with colors, but allow us to remind you that black is the primary color of elegance. The sequins will ensure that the dress features a vintage theme, and the sleeves themselves are short.
If you prefer a long sleeve dress, don't let that be a dealbreaker. Instead, add long satin gloves as an accessory, and you are good to go.
Those who prefer to experiment with colors could choose long flapper dresses in pale pink or cream.
The beautiful thing about a dress like this one is that it comes in various sizes, but the fabric is comfortable and stretchable. That will ensure your 1920s dress with sleeves isn't tight. You will feel like you can dance in it as soon as you hear the first Charleston tunes!
A 1920s-Inspired Maxi Dress
If you don't like mermaid style Great Gatsby long sleeve dress, how about going with a maxi alternative? Maxi clothing is famous for being comfortable and looking classy and elegant. It might be too much to pick the classic white, which is why it's better to go with cream.
The right cream shade can be extremely glamorous, and the best part is you can purchase it at an affordable price. You want to look for a maxi dress inspired by the 1920s, which means sequins and some sparkles are welcome. It would be perfect to combine the dress with a matching headband, which was the favorite accessory of 1920s flappers.
Once again, allow us to mention a black color as a glamorous and elegant one. We already established that black will be fashionable in every era, which is why you can't go wrong with a product like this.
If you want to fit the 1920s era, the sparkles are your answer once again. It depends on your body shape, but a maxi flapper dress with sleeves should ensure you feel comfortable. The V-neckline will ensure you point out chest as your strongest suit and don't forget to choose matching heels to dazzle everyone at the costume party.
Can You Wear 1920s Flapper Dress with Spaghetti Straps?
The answer is a resounding yes, and we have multiple reasons for claiming that! You don't have to find a 1920s long sleeve dress with sleeves.
It's acceptable to shorten the sleeves if they fit the overall clothing combinations. (Be sure to also check out our 1920s Shawls to add that extra touch to your outfit!)
What if it's summer and you want to feel pleasant in your outfit? If that is the case, you want a short sleeve flapper dress with spaghetti straps. While black can be the dominating color, try to find a unique vintage pattern.
Thanks to the sequins, you will feel like you belong in the 1920s era. The spaghetti straps are perfect for women who like dancing. If the party you are visiting is a cheerful event and there will be music, the straps will follow your every move and ensure you are the queen of the dance floor.
While combining black with gold, you are free to pick a product that fits your style. The roaring 20s fashion didn't hesitate from unique patterns and sequins that pinpointed sparkliness.
The spaghetti straps will have the role of extending the dress, so it doesn't look too short. And if you don't appreciate the black color, how about moving away from it and picking ivory?
An ivory sequin fringe flapper dress with sleeves can be incredibly glamorous. The vintage pattern will add to the elegance, and you will appreciate the spaghetti straps once you begin dancing. If you are going as a couple, don't forget to match the Great Gatsby costumes with your partner.
Pick a True Flapper Costume
Are you getting ready for a Halloween party inspired by the 1920s? Would you like to dress as a performer and fit the fashion of the era? If the answer is yes, don't hesitate to go with an authentic flapper costume for performing.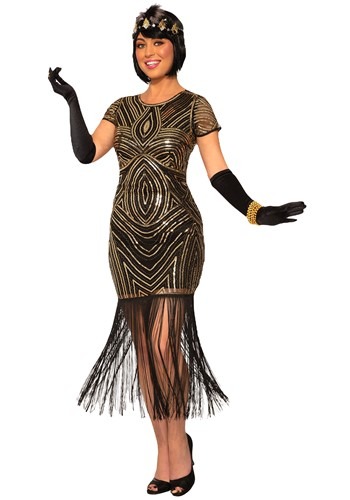 It features a vintage pattern that combines black and gold, and the spaghetti straps will ensure you look dazzling while moving. This costume can be perfect for a 1920s party host, but remember to combine it with the right accessories. Apart from the headband, we suggest black sating gloves to boost that graciousness.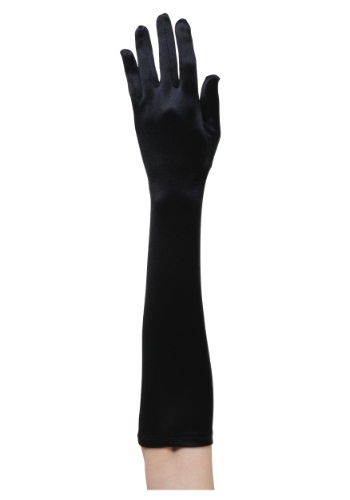 Complete the look with Gloves!
Those women who want to go with a flapper dress, but not the one for performing can consider that costume type.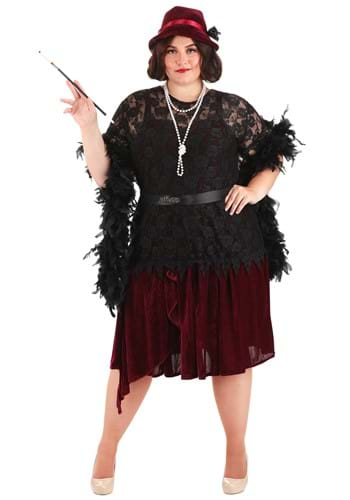 Available in Plus Size – Click to See Sizing!
While it is not exactly a women's art deco dress, this costume will perfectly fit in the roaring 20s era. The tank dress and a lace shirt are a part of 1920s fashion, and it's smart to go with a combination that features a belt and a hat.
You can also purchase accessories like a cigarette holder to round up the entire outfit. Here is the good news – it shouldn't be a problem to find a plus size flapper dress with sleeves for your party! To see all our favorite 1920 plus size drop waist dresses click here!
How About a 1920s Cocktail or Party Dress?
It's time to consider a different idea – how about combining the 1920s era with a touch of modern? It can be great if you want to change during the party.
After your performance, you can move to an alternative flapper style dress that feels more comfortable.
Get the Stunning Vintage Dress!
Apart from gold as the dominating color, you can also choose a black fringe party dress.
And if you want to look unique, how about a true cocktail party dress? It will fit the 1920s even if you feature a unique color like teal.
Ultimately, the choice is up to you. It's always nice to know that you can choose from a generous selection of 1920s long sleeve dresses with sleeves. These outfits are inspired by the vintage 1920s, and the only thing to ensure is to find your favorite!
After a different certain color? Click below to see: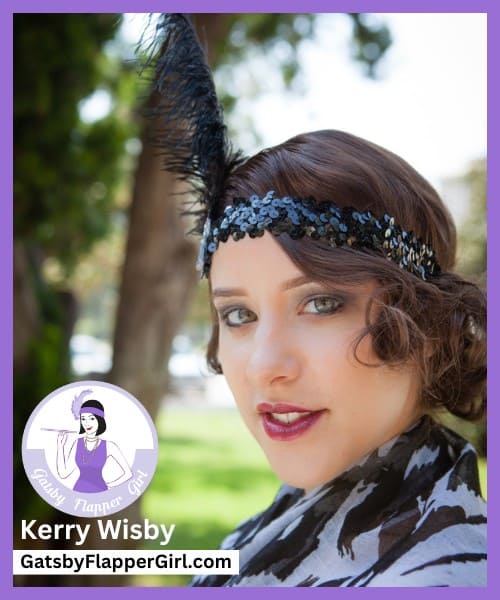 Written by Kerry Wisby – GatsbyFlapperGirl.com
Owner & Founder of GatsbyFlapperGirl.com
Kerry Wisby is the owner & founder of GatsbyFlapperGirl.com, your go-to source for all things 1920s & The Great Gatsby. With a passion for the era & a wealth of knowledge to share, Kerry is dedicated to providing you with everything you need to know about Roaring 20s fashion, 1920s history, & Great Gatsby-themed party ideas. Join Kerry in bringing the spirit of the Roaring 20s to life! Read more about Kerry here.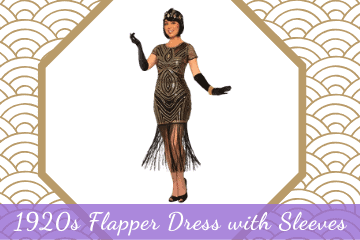 1920s Flapper Dress with Sleeves
Are you looking for a stunning 1920s flapper dress with sleeves? Check out our top suggestions and find the right clothing items for your upcoming party!