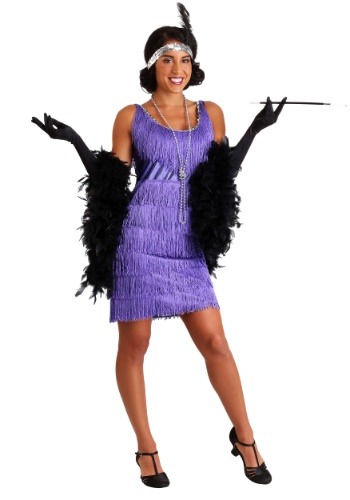 Nothing is more fun and chic than going retro!
Everything old is new again, and this is certainly true with 1920s fashion.
If you're headed for a Halloween party, a costume party, a cosplay event, or you just love the fashion sense from this era, you want to look genuine.
1920s Purple Costumes Aren't Always Called Purple
When looking for a purple flapper outfit, you might be surprised that the word "purple" isn't often used. So how do you find 1920s purple costumes?
Quite simple—Look for words like "anemone", "caprice", or sometimes, "plum".
Also take note that a popular reddish-purple color was called Elegantine.
Why the strange (to us, at least) color names? I suppose wearing caprice sounded more fun and elegant than plain old purple!
Let's see what it was like back then to wear vibrant, comfortable, and dripping-with-fringe flapper dresses in this color.
The Best Purple Flapper Dresses Ever
Generally speaking, a high-quality flapper dress was worth its weight in gold. Dresses of the times were made from light, airy, soft fabrics for the most part.
It was also common for these dresses to be hand-washed and even then, only infrequently. They were spot-cleaned or aired out but rarely washed due to the abundance of beads, sequins, and fringe, which could be easily damaged or come off entirely!
Take this beautiful flapper dress for example.
This vintage-styled dress can be hand-washed because it is made from polyester, something that hadn't yet been invented in 1920. The extensive beading, sequins, and fringed hem would not have held up to very many washings back in the day!
We love this dress for its stylishness, which is exactly what a flapper would wear, and that it isn't too revealing. This beauty does come in other colors, but we love this shade of plum that will stand out in a crowd of black and pink.
Dainty 1920s Voile Dress in Plum
Dresses from this era were frequently made of a fabric called voile. Yes, voile is cotton, but it's been treated so that it more resembled silk. It was soft, sheer, and sometimes so limp that it was mixed with linen to help give it some body!
A purple flapper dress resembling voile would look something like this-
Imagine wearing a sheer dress like this. You would want to wear a slip or have the dress lined to be sure. See how delicate and fine this dress appears? This beautiful purple number will turn heads no matter what event you're attending.
We can't get enough of the sheer, sequined, fringe-outlined sleeves! Those are nothing short of stunning, aren't they?
Sheer Silken Flapper Dress in Lilac
Of course, silk was the ultimate fabric, and it was anything but cheap. A wealthy girl wouldn't have a problem owning several, but the average woman would be hard-pressed to purchase even a single silk dress.
A silk dress would look something like this delicate style.
This outfit comes with a matching child's dress, but you can always use just the adult one if you decide to purchase it.
A dress like this in silk would cost several hundred dollars, but using today's fabrics, we can imitate the same look for less than $40.
You can wear this in the sweet lilac color or in a darker purple that would probably be called anemone in the 1920s. This stunning little number is so gorgeous all you need is an upright feather in your headband to complete the outfit.
Stunning Plus Size Purple Flapper Dresses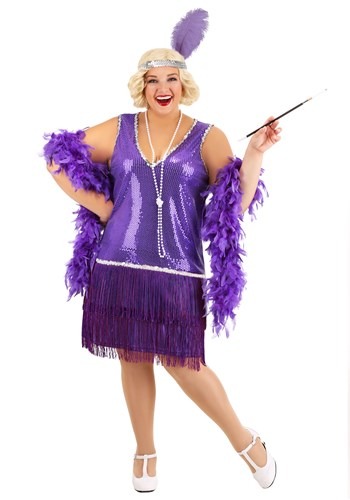 Get the Purple Flapper Costume!
Being plus sized isn't a problem when you know where to shop.
If you read ads from this era, you will see that plus-sized was once called Stout. This term applied to both men and women, particularly women.
Stylish Plus-Size Vintage Dress in Dark Purple
If you're a stout woman looking for a stunning vintage dress for your event, we've got you covered.
We love this super vintage-looking, beaded, and heavily sequined dress in the traditional flapper style.
Get the 20s Plus Size Flapper Outfit!
This dress perfectly fits sizes up to 3XL. There are even two shades of purple to choose from, the nearly black purple dress and a medium royal purple color with breathtaking gold highlights that are sure to get you noticed!
Modest Fringed Flapper Dress
While flappers were known for their "scandalous" behavior and dress, it's only because they didn't conform to their parent's ideas of what was proper.
That being said, many flapper dresses were a bit more modest than you might think, especially compared to today's standards.
If you are interested in a purple dress that covers a bit more skin, this stunning sequined number is exactly what you have been looking for.
This fits up to a size 20 (see the designer's size chart). We think the see-through sleeves are simply adorable, and despite the slightly longer hemline, this number will dazzle everyone.
Loco Coco Peacock Dress
Coco Chanel was the top designer during these years. She wasn't afraid to be bold and wear something different, and we think this dress would have been one of her favorites.
If you've got a passion for wearing something different, if you really want to stand out from the crowd, this peacock dress is out of this world! It fits sizes up to 16. We love not only the elegance that this costume creates, but also the interesting hemline that is so Coco!
Unmistakably Flapper in Purple Black
Why do we remain so fascinated by the Jazz Age? Perhaps its the romance and naughtiness. Maybe we find the mystery of speakeasies so appealing.
We're betting that it's the incredible fashion sense that caused designers to create timeless pieces that we never grow tired of!
If you're one of those who want a purple dress for their costume party but who don't really want to go all out purple, you will love this brand.
Get this Sexy Roaring 20s Dress!
While the dress is mainly black, the purple, blue, and silver sequins give it a shimmer that can't be matched.
This gorgeous dress fits sizes up to 3XL, and when you pair it with this feathered headband, gloves, and pearl set,
you are going to find yourself the center of attention!
Final Thoughts
Don't forget that a true flapper knew that accessories make the outfit.
This accessory set has everything you need in every color imaginable to make your purple flapper dress a complete success!
The dresses mentioned above are competitively priced. Don't wait too long to order yours so you can get your size in time for the event!
Create your own vintage look by pairing one of the purple dresses above and the accessory kit, and you will be the talk of the party!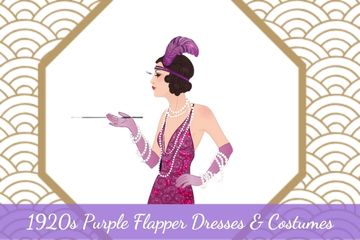 1920s Purple Flapper Dresses & Costumes for Parties or Halloween
Looking for some vintage-looking, 1920s flapper dresses in purple? Big or small, we can tell you how to wear a purple flapper dress with this complete guide.